What makes for a good day fly fishing? Well an awesome hatch and some tight lines of course. But what can make it even better is having a juicy cheeseburger or some brats before the evening hatch begins. A good fly fishing tailgater can make a good day of fly fishing into an even better experience.

I have tailgated at plenty of football games, but Maurice was the one that first got the chillin and grillin going for me while we were fishing up on Penns Creek years ago. Nothing beats grilled hot dogs, icy cold beer and some Rolling Stones while getting ready for the evening show. I was pretty easily convinced that loading the grill for any one of our day-long Lewis and Clarke expeditions was mandatory. Without a doubt it beats the smashed-up soggy ham sandwiches I was content with for years.

Often we head out for a long day of fly fishing and the late afternoon can be a slow period on the stream. This is a great time to fire up the grill, turn on some tunes and get the burgers going.


A lot of what you need is common sense, but let's review the basics. Planning is the key to making your tailgating experience the best. The primary items of any tailgater include the grill, cooler, chairs, table, (if you do t have a tailgate) and music speaker. Some of the more elaborate setups at football games are not a very good fit near a stream.

A portable propane grill is the centerpiece of any fly fishing tailgater. A simple Char-Broil Standard Portable Liquid Propane Gas Grill can do the trick for about $45 or you can spend more if that suits you. You typically don't want to spend hours getting set up and cleaning up next to s stream. An easy-to-use grill that can heat up and cool down quickly is important. The last thing you want to be doing is waiting an hour for a grill to cool off while a sulphur hatch gets started.


Kitchen essentials like a spatula, tongs, paper plates, paper towels, trash bags, knife, cutting board, and utensils rounds out the gear. I keep a plastic container with all those supplies on the ready to make it easy to move those items around. We usually grill on the ground, but a small roll-up camping table can make it easy to keep the grill out of the high grass or mud. The back of a pickup tailgate works as a pretty good table too.

Cheeseburgers and hot dogs are the logical choices for some streamside grilling. They are easy to bring along, quick to cook and make cleanup painless. No need to get fancy, just get good buns, lettuce, tomatoes, onions, chips or other sides that spoon out. We wouldn't win any prizes from the Food Network with our tailgaters, but brats and Italian sausages are fun too. Don't forget the condiments.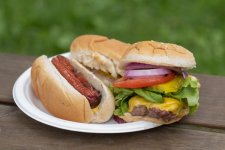 While you're cooking its a great time to crank up a playlist on a Bluetooth speaker and crack open a bottle of your favorite beverage. The rest is easy to figure out.

If the fishing is a bust that night and the spinner fall didn't happen, you still at least had some time beforehand with your friends and family in a great setting.

[Disclaimer: follow all the laws and be courteous where you are tailgating]

#fly #fishing #tailgating
Last edited: