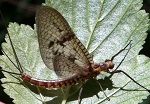 Joined

Jul 7, 2015
Messages

812
Location
I just watched an episode of the New Fly Fisher today where they targeted large brook trout that maxed out just over 20". It was at Elk Island Lodge in Manitoba.

I generally target brook trout in PA between 5 and 10 days per year. I've enjoyed brook trout fishing since I was a kid in Potter Co. Obviously there is just something special about it. With that said most of my PA fishing is on stocked streams.

My question is to the brookie chasers on this site. The ones that chase brookies more than anything (your favorite fish to catch so you spend at least 50% of your fishing time).

Have you been to a destination like Elk Island Lodge to chase very large brookies? If yes, what was your overall experience? That environment is totally different than a small PA stream with a dense canopy. It's a big fast river wide ope river. Is the draw the big fish itself or is the environment the real draw?

Do you have no desire to chase large brookies due to the increased chance of killing a large brookie since streamers are the fly of choice to entice these big fish? I fish streamers a lot and unfortunately I kill fish in PA due how deep they inhale it (usually aggressive browns in stained water).

I'm torn if I want to take a trip like the Manitoba show I watched and am interested in people who have lived it and how you feel. I always thought that was on my bucket list but now I'm not so sure.