Last weekend I was back up for a few days of fun with Rick Nyles and the guys from Sky Blue Outfitters on a friend's trip to Central Pennsylvania. In 2021 we had some tremendous luck fly fishing with some outstanding weather and Grannoms. This year the weather was certainly different and called for us to change some things up for the trip.

Earlier in the week most of the state got pounded with about 1-2 inches of rain from an approaching cold front. This pushed streams like Penns and Bald Eagle well over 1000 CFS, which is not practical for fishing. Not to worry as Rick had several backup ideas for some locations with clearer and lower water in the region. A fellow longtime friend of the site

Foxgap239

joined us for the weekend and the three of us took on the stream.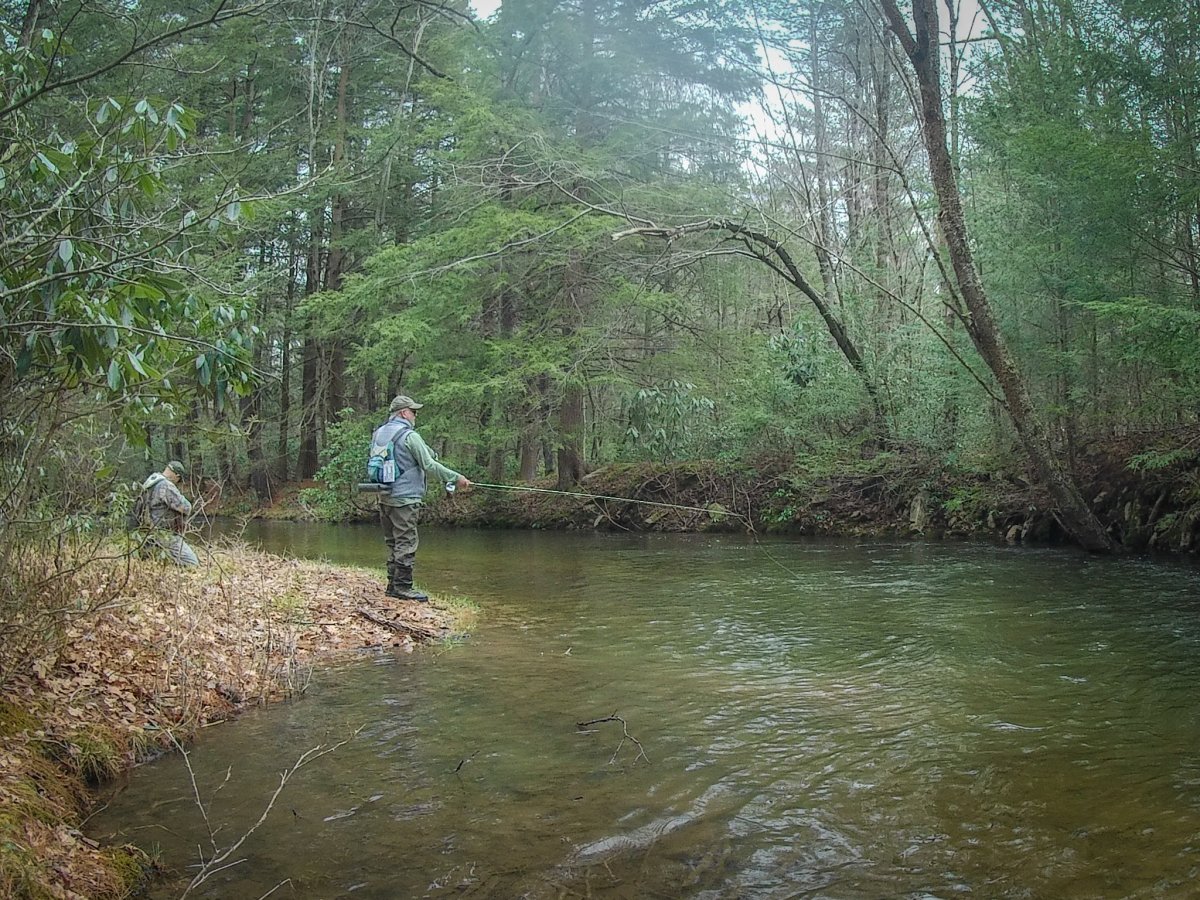 ​
We made our way over to a Catch and Release Fly Fishing Only stream on the edge of Centre and Union counties. Despite all the rain, the water was clear and not too high. We spent the better part of the day hiking along the project to find many stocked rainbows. The sunshine and nice weather added to the day.
​
Like any well-experienced angler and friend, Rick "The General" Nyles was kind enough to offer some advice as we fished together. I soon learned some things about my line mending technics, mostly that I was "doing it wrong." This has been a common theme in my life was not the first time I have heard a message like this. I worked very hard to keep The General happy and after several more times given some encouragement and scowls he let up. So I must have been doing better? I was happy to learn I was not the only one in The General's line of sight because

Foxgap239

got the same treatment lessons.
​
The late afternoon left us ready for some new water to explore.

Foxgap239

led the charge finding us a brookie stream to conquer.

Foxgap239

jumped out rod ready for battle and Rick followed. I offered to stay back and protect the truck. I somehow screwed that up and fell asleep on watch. The boys did even better on the brookie stream compared to our earlier efforts on the stocked waters.
​
We returned to the farmhouse for some bourbon tasting and time reflecting on better line mending. I had brought up some fresh Maryland crab cakes with me and we got the oven going for a fantastic dinner. We were joined by

SBecker

and Dave "

OldLefty

" Rothrock who drove many miles once hearing about the crab cakes. As always the evening was spent with tall tales of fishing adventures and sorting out the troubled state of fly fishing in the region.
​
The next morning we were greeted by snow showers and sleet. Needless to say, we drank coffee and got a slow start to the streams. The water was still high pretty high, but not as off-color so we gave it a go at Fishing Creek.

Foxgap239

and I were anxious to see how our mending skills had improved only to find out that wasn't necessary on that creek for some reason? Disappointed about the lacking mending opportunities we took off for Spring Creek. Both streams were tough fishing with no hatches and higher water.

We decided to find some more brookie streams and enjoy a few of the wilder things found in Pennsylvania. We ended up hitting several streams and catching many brook trout. They are such beautiful fish. A special thanks to

Foxgap239

for his enthusiasm and encouragement to hit these streams for the afternoon. He certainly had some great knowledge of where and how to fish these special streams.
​
We wrapped up our evening with more bourbon and fine dining to cap off the weekend for me. It was another fun trip for a friend's weekend with Sky Blue Outfitters. I highly recommend contacting Rick and the team for some great opportunities to fly fish in Pennsylvania. Their experience and knowledge as fly guides are to be admired. Thank you Rick for another great weekend.
Last edited: