May and early June are unquestionably my favorite weeks for fly fishing. Warmer weather with lots of exciting hatches makes for fun days and even better evenings. I especially enjoy the spinner falls that occur on some of the larger streams. My trips to North Central Pennsylvania have provided me the best luck with some of these late evening spinner falls. Being that the big spinners don't show up until after dark, they are not the easiest to identify, and one trip in 1989 I capitalized on this unique seasonal challenge.

"So Dave, how's it going?" This was the booming voice of Ron "Trout Dog" Kolman. Ron is somewhat of a local legend for about 50 yards of guardrails along Route 872 on the special regs section of First Fork in Potter County. We were staying up at Greg Sipos's camp for one of our annual spring pilgrimages to God's Country. Both of them were kind enough to take me under their wings and teach me how to fly fish some years earlier.

Over the years, I learned Ron's inquiry was usually more of a competitive interest and not to be misconstrued with my wellbeing. All part of the usual banter I learned was part of fly fishing.

The casual evening was busy with sulphur duns on the water, and as the sun started to set, we tied on our traditional #16 rusty spinners for the anticipated spinner fall. By casual evening, I mean fierce competition to see who could catch more trout. The primary measure of any angler's worth versus their friends is the number of fish, of course. The first of us to make it to the Century Club was an award better than any trophy served up to a little kid playing soccer on Sunday afternoon.

After a day of trout triumphs, we fell into the Wharton Inn for a cold one or ten and a replay of our great fishing heroics. This usually involved a big trout that was on the far bank, behind a rock, in a bad drift, that eventually you schooled. You know that fish. Cold beers and tall stories of big fish had us carrying on and led us to discuss our limitless opportunity for fish the next day. The smell of overconfidence was only outdone by the smoke in the bar.

These knuckleheads may have taught me how to fly fish, but at 1:30 in the morning at the Wharton, I had built enough mettle over the evening that I could even out-fish Lefty Kreh with one hand tied behind my back. We left that evening with a new challenge for the next day's fishing derby. If I wanted to make sure Frick and Frack were going to be buying the cold ones the next night, I was going to have to get up early and get my A game going.

The early morning plans got superseded by a very intense resting and strategy session until about 10:00 am. Well, it was a marathon, not a sprint, right? The good news was those two seemed like they were into their own deep personal planning sessions as well from the sound of sawing wood rattling through the camp. I quickly headed down to my favorite riffles and geared up for the day's battle on Fort First Fork. Dashed may have been an embellishment, but stumbling didn't seem to invoke my inner Lefty Kreh.

Greg must have heard me leave because I saw him pull a surprise flank attack on me from downstream shortly after I got into the water. He wasted no time in landing a nice brown even before I could get my second cast going. Greg has a good methodical approach to fly fishing and always came up with some fish. I knew I had to keep an eye on him, but more so on Ron.
​
Faintly it sounded like Ron was still at camp even though he was about a mile away. Big snorer Ron was; he could strip the paint off a camp wall without lifting a scraper. But soon, I looked up on the road, and Ron was preparing his morning assault much more earnestly than the guy I thought was prepping half of the camps in Potter County for a fresh coat of paint one hour ago.

The battle was on and went well for most of the mid-day. A fish here and there with pretty steady activity. I grew a bit weary after about two o'clock and needed to reload on some supplies. I was deep into fishing with a #22 Griffith's gnat for a couple of hours, and my head was about to explode from the bright sun and the previous night's planning.

Ron was already at the truck and had a can of cold provisions in his hand. He bellowed, "So Dave how's it going?" I knew right away I was in trouble, and that was the Ron voice I knew that he was catching fish. I was relieved to find out that Ron was only a few ahead of me. Greg strolled up and shared a similar number. I was still in trouble because it always seemed that Ron could look at a fish and, through some sort of Jedi mind trick, have a trout hook itself on the end of his line in no time. This was some sort of advanced technique he never was willing to share with me.

I needed to get creative! And by that, I didn't mean reach into the cooler.

We returned back to base camp for some food and to reload for the night assault. Ron quickly went back to his early morning planning session of stripping paint. I figured if I was going to pull this off, I needed an ally in this fight. I had an idea, but not being a competent fly tier, I solicited Greg to help with some thoughts for the evening attack.

We always marveled at the evening spinner falls and speculated that the big fish always came out at night. Greg and I contemplated the idea of tying up some really big rusty brown spinners. How big? Well, how big were those spinners we saw last night and what is the biggest hook you have? Make them as big as a B-52 if you got the hook. Greg proceeded to tie up some of our now "B-52" #8 rusty brown spinners. The bigger the better, right!
Later, we regrouped and we all went back for another skirmish on First Fork. We found ourselves in another nice sulphur hatch to keep us busy for most of the first part of the evening. All the while preparing to launch our surprise as dusk set in. The large spinners started warming up with their usual up-and-down dance over our heads as the sun started to set.

Ron was still ahead on the fish count, but not by much as he tied on his old lame #16 rusty spinner for the last melee of the evening. He didn't see our counterattack coming. Greg and I quietly reached into our fly boxes and stealthily loaded up and launched our B-52's" onto the water. Our anticipation was overtaken by the sound of our rusty brown monstrosities beautifully accented with poly wings being cast over the stream. Geez, was this a fly or a duck flying over my head? All I could think of was, is this going to be an epic fail, something not foreign to me, or something special?

Boom, splash, and tug! To our amazement, the darn things caught trout right away. We could easily toss them around and quickly slap them over top of any rising trout. More importantly, not a lot of talent was needed! The action was fast with these things. This size fly was much easier to toss and skate across the creek. A lot of quick casts to those rising fish was very productive. The Ginked-up poly-winged fly stayed up longer than other flies, which was very important since I couldn't even see my hand in the dark.

Ron soon retreated, I'm sure in frustration, from our taunts because it was now dark and he could not see his fly. It may have had to do with making sure he had a seat at the Wharton. Probably the latter.

Greg and I carried on for quite some time not by sight but by sound. It was kind of surprising how successfully you could set the hook with just the simple splash of a trout attacking a fly. We ended up staying out quite a bit later as we launched our B-52's across the water that night. This was really fun. I know we ended up picking up over a dozen extra trout each that added to our fight tally.

Quite exhausted from our evening's engagement, Greg and I then went to find Ron ready with our beers as we slogged in off the stream. Ron knew we had quite a night out there, and we proudly accepted our icy cold can trophies with big grins of swagger.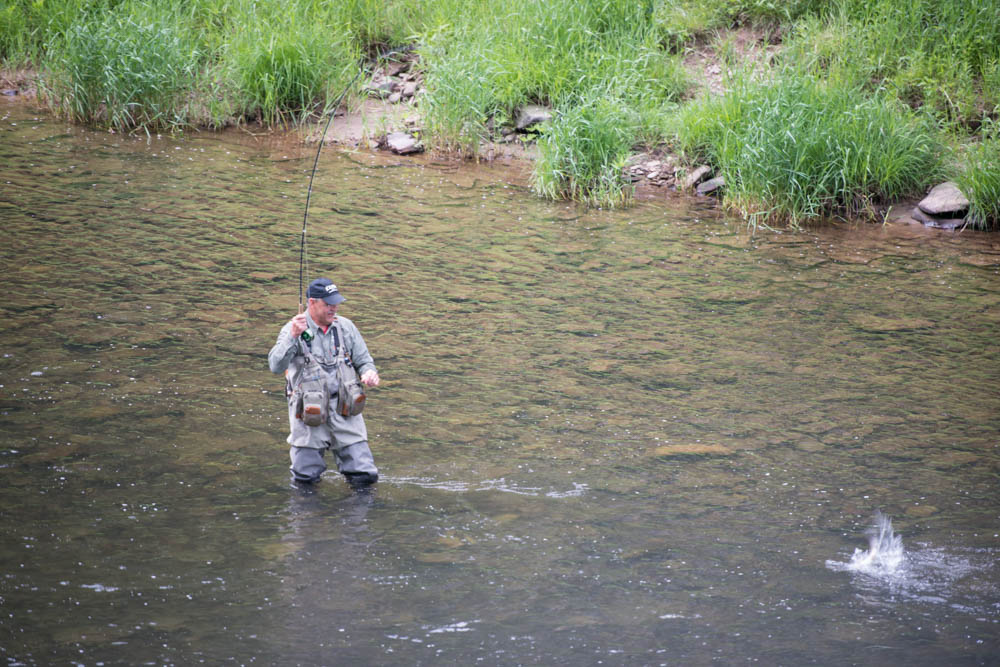 ​
I may have won the battle that day, but Ron quickly clued in to our clever little trick and waved his Jedi hand over the water the rest of the week and won the war. Every December, I make a call to Ron and phone in a request for some B-52's. Yeah, Ron is now a believer too and has added that fly to all of our fly box arsenals. May is here and it's time to get out my B-52's, my favorite time of year.

If you like this site and know Ron or Greg, buy them a beer some time. There generous time in teaching me to fly fish is my idea for this forum. Thanks guys.
Last edited: