Category
Last published item
PaFlyFish.com

Shad Darts By Tim Bennett (TimB)
Fly Fishing

John Brown's Bass - Part 1 by David Weaver

Product Review

Product Review

USGS Water Data Goes Mobile

Fly Fishing Tips

Fly Fishing Photography: Getting the Shot with ...

Getting Started

Where to Fly Fish in Montana? A DIY Trip Guide - ...
Interviews


Interviews

Another Great Fish – Old George
Conservation

Rivers Conservation and Fly Fishing Youth Camp in ...
Fly Tying

Hi-Vis Coachman from Tightline Productions
Pennsylvania Fish and Boat Commission

PFBC Proposes Changes to Fly Fishing Only Areas - ...
Published by Dave Kile [
dkile
] on 02/11/2013 (2189 reads)
by Brian McGeehan at Montana Angler Fly Fishing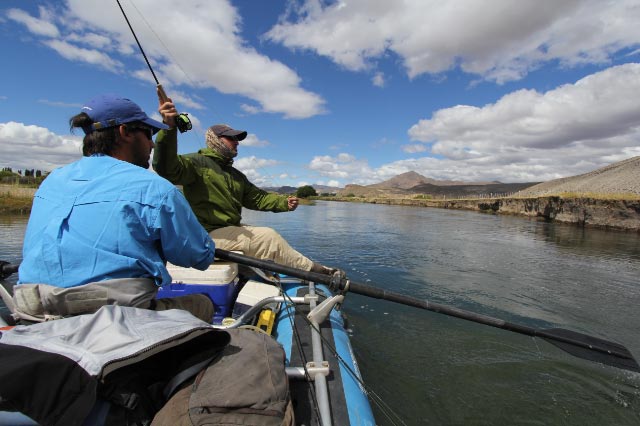 Our trip to Argentina in 2013 proved to be a diverse adventure that spanned both the southern and northern areas of the country. After flying into Buenos Aires we spent a day in this beautiful European style city enjoying the sites and of course some incredible Argentine steaks. The first leg of the trip was an overnight fly fishing trip on the Chubut River in the center of Patagonia. The second leg of the trip was to the Ibera marsh ecosystem in the Corrientes province in the extreme north of the country in a quest to catch the unique golden dorado.

Golden Dorado
Golden Dorado are native to South America in a relatively small geographic region that includes Northern Argentina, Uruguay, Southern Brazil and some small pockets in Bolivia. Most of the fisheries are located in the Paraná River and its tributaries. There are also a few pockets of the species in Bolivia at the headwaters of the Amazon basin. Dorado are river fish and have a similar profile as that of a salmon including an adipose fin. Just like salmonids they prefer to current features when selecting feeding lies. Golden dorado are fierce piscivores and aggressively take large streamers.. They are fierce fighters and nearly always jump when hooked. Golden Dorado have not been transplanted out of their native range and they have only come onto the radar of international anglers in the last 10-15 years. Although some of the largest dorado are caught in the larger Paraná River many fly anglers choose to target the fish in the relatively few locations where clear waters prevail. Catching a large, strong and aggressive dorado in a river that resembles a trout stream is truly a rush. Imagine fishing for small tarpon on the Madison! The primary locations that support guided golden dorado fishing are the new Tsimane Lodge in Bolivia, the Salta region of Argentina and the Ibera Marsh at the headwaters of the Corrientes River. Most of the fishing at Tsimane and Salta is wade fishing on smaller clear rivers. There is also a large river, the Rio Juramento, near Salta that is floated in rafts for trophy dorado. On our recent trip south we split our trip between Patagonia and Northern Argentina where we targeted the Ibera Marsh which offers a unique clear water fishery accessed by Bahamas style flats boats.

Pira Lodge
Pira lodge is located in the Corrientes province of Argentina which is sandwiched between Brazil and Paraguay. The province is known for its colorful people and traditional music. We took a first class overnight sleeper bus which was surprisingly comfortable with large leather chairs that lay flat into beds along with bar service and meals. After sleeping on the bus all night we arrived refreshed in Mercedes and were greeted by the lodges transfer driver. Pira is located on the edge of the vast Ibera marsh system and the drive is about an hour an half from Mercedes across rutted dirt roads. The lodge itself is spectacular with an array of insects, huge toads and countless colorful birds making a never ending raucous chorus each evening. After settling in we met with Noel and the guides. Noel was the head guide for over 13 years at Pira and then went on to start Tisamane Lodge in Bolivia and is one of the most respected dorado anglers in the world. Unfortunately the news on the fishing front wasn't good. All of Argentina had just endured an unusual three week stretch of very wet and cold weather. Dorado are a warm water fish and become lethargic in colder waters and just like trout they don't love rising flows. Despite the disappointing news we were determined to give it our all.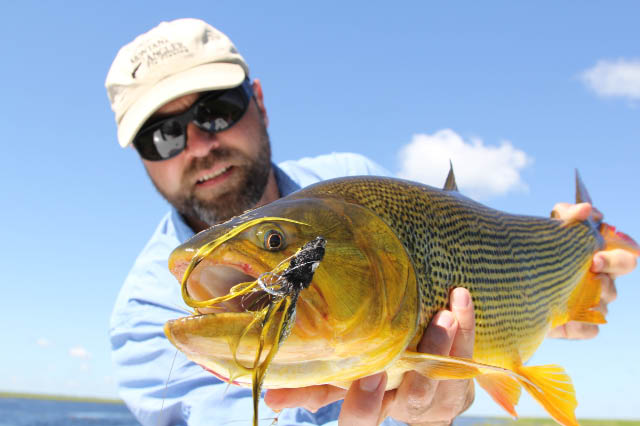 Pira Day 1
With the unexpected conditions and higher flows, Noel and the guides felt our best shot at fish was to go down deep in the main Corrientes river channel. Pira is known for its floating line fishing and aggressive surface takes but with the cooler water it was unlikely that the dorado would be very active and certainly not on the surface. At the end of the first day we hit pay dirt and Anthony and I each hooked and landed two nice 5-7lb dorado in the waning hours of the evening before heading back to the lodge. The fish are absolutely amazing and hit like a sledgehammer. The fight is just as impressive as these incredibly strong, trout shaped fish leap over and over and take of on blistering runs. When the dorado are landed their magnificent gold flanks and orange and black tail cap the experience.

Pira Day 2
The fishing at Pira is broken into morning and evening sessions. Each day we headed out in flats boats through a labyrinth of small channels. The marsh ecosystem is spectacular with over 350 species of native birds of all shapes, colors and sizes. The birdlife was absolutely spectacular and I can't say I have ever been to an equal location in this regard. In addition to the birdlife we regularly saw large crocodile like caymen and huge rodents called capybara. Day two produced some very tough fishing and although we all had a few hits and follows no dorado came to the boat. Noel came along on day two and he and Anthony scouted some of the smaller tributary "creeks". These are small channels through the marsh with current just like a spring creek and very clear waters. While scanning from the boat they successfully located a lot of large dorado in the system which lifted our spirits to at least know the fish were there. One of the challenges of the high water in the marsh is the fish are spread out and often relocate so finding the fish was a welcome discovery.

Pira Day 3
The morning fishing continued to be frustrating with a lack of success. With each hour of futile casting our team began to lose hope in the prospects of hooking the golden fish. Occasionally our hope would be lifted by a follow or take. I lucked into a hefty 7 pounder at the end of the morning and that was the only action to report. In the evening session I was solo with Noel and we decided to try some of the smaller creeks where they had seen some fish the day before with a floating line. We finally started to see the marsh begin to wake up in terms of fish activity and spotted a few dorado rolling from time to time. Noel explained under normal conditions dorado are frequently rolling and attacking bait fish in explosive disturbances than are easy to spot. This seemed to be a good sign and sure enough the action followed. By the end of the night I had hooked into 5 dorado and landed two along with several large piranha and an interesting fish called a san antonio. This still wasn't on par with the regular catch rates which average 4-10 dorado per person per day but it was great to get a taste of what the fishing can be like. The takes on the floating line were a huge rush and it was incredible to see the dorado in the clear water producing a wake as they attacked the fly in a huge boil. Unfortunately the other boat didn't find similar success on the larger river down current.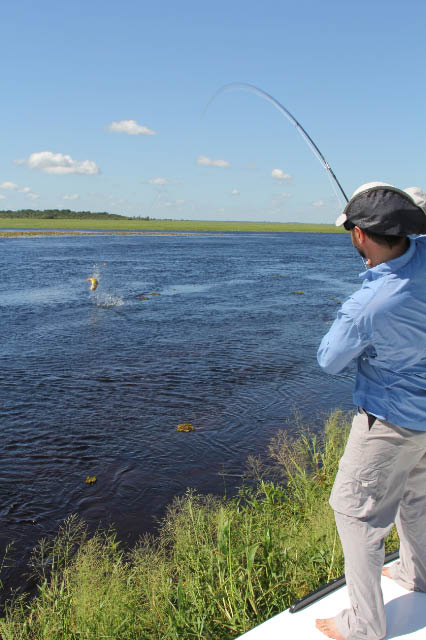 Pira Day 4
The rains that started the evening before continued into the night and eventually turned into sustained downpours. The amount of rain that fell was unprecedented and a true spectacle of nature. The swimming pool that was 18" from the top the day before was overflowing in the morning. The marsh grew before our eyes and huge lakes formed in all directions around the lodge. We gave up all hope of fishing in the torrent and focused our attention on getting out across the dirt roads early enough to catch our sleeper bus. Our amazing hostess Marcela decided to have the shuttle drive arrive 5 hours early to play it safe. When he was an hour late she loaded us up in her own truck and we started heading out hoping to meet him on the road out. The roads were terrible and just a few minutes from the lodge we were driving across flooded areas. Marcela crept along and stayed ruts to avoid sliding off the slippery clay road. After 30 minutes of progress our hearts sank as we came around a bend and saw the road completely under water as far as the eye could see with a Toyota Hi-lux truck nearly underwater in the ditch. It looked like our stay at the lodge would be extended for several more days. There were some local gauchos around and Marcela went out to talk with them. It turned out that her husband was the one that lost the truck in the flood but he was the manager of several estancias in the area and had guessed we were coming. Our transfer driving was waiting on the other side of the flooded road and the gauchos let Marcela know that they could ferry us across. The next thing we knew we were horseback and praying these horseman were confident in their assessment of the waters. The current was swift across the road and the level came up to the horses bellies. We had to ride at a bit of an angle so the horses could ferry into the current. After the longest 500 yard horse ride of my life we made it safely to the other side where our drive awaited. The gauchos crossed the flood again to retrieve our luggage via horseback and we were off again. Just when we thought we were out of the woods we encountered another flooded section (the water had kept rising since the drive had come from town). It wasn't as bad as the other stretch but still very intimidating. We all held our breath as the truck headed into the flood with water coming in through the doors. It was a very quiet cab until we finally made it across the last obstacle safely. Nearly five hours later we finally made it to the bus station with only minutes to spare!

Brian McGeehan is a native Pennsylvanian and owner of Montana Angler Fly Fishing (http://www.montanaangler.com) based in Bozeman, MT. Brian is also an avid international angler and leads annual trips to Argentina, Chile and the Bahamas.

Published by Dave Kile [
dkile
] on 01/31/2013 (2248 reads)
By Andy Wagner at PA Undercurrent Outfitters



Let's get one thing out of the way right now. This fly is in no way an original. True, I gave it a name. It's also true that I came up with the color combo through days of trial and error. But I still can't take credit for its creation. Fly tiers are all bandits, me included. We're petty thieves looking for any chance we can to rob another of ideas and designs. Innovation is something we rarely arrive at on our own. We pick pieces and parts out of fly patterns along the way to arrive at our own style. There are some among us who can claim to come up with these hot "new" patterns all by themselves. Honestly, I'm not that creative, so let me be the first to say that my fly patterns are stolen. Yep, I'm a thief and it feels good to confess my banditry.

The name of the fly indicates the water that inspired this streamer. Although I fish and guide the big name trout streams here in Central PA, the warm water of the Juniata River is my home. It's where I caught my first fish and many of my most memorable fish since. Lately I've been daydreaming about the Juniata and smallmouth fishing in general. It might have something to do with the weather. Nothing makes a guy long for floating and wet wading a warm water river like 10 degrees Fahrenheit.

In these daydreams the weather is warm, the water is clear, and a buddy and I are floating the river. The bass are active in this little scenario of mine. They're more than willing to eat a streamer ripped off the bank or through a mid-river bucket. We're throwing a 1/0 Dirty Fry, and the smallies are blowing up in every likely holding lie.

This fly has been one of our most productive patterns over the last few years. Trophy bass of the Juniata are cannibalistic creatures. The sun is high, and we jockey back and forth from the rower's seat to the front of the boat. In our boat, whether you have a hot rod or not, you're bound for some time on the sticks. It's the heart- thumping kind of streamer fishing we all enjoy, but as always it stays relaxed. Above the riffles and glides cigar smoke mingles with our philosophy and lies. The smell of the river is mixed with the aroma of fresh cut hay. The bass themselves are strong, fat, and sporting a lot of attitude of course. Who would dream of anything else?

Andy Wagner was born, raised, and now resides in a village conveniently located between the smallmouth of the Juniata River and the brown trout of Penns Creek. When he's not fishing, tying, or guiding he works at his barber shop for gas money.

Published by Dave Kile [
dkile
] on 01/28/2013 (2501 reads)


I am always a big fan of the The Fly Fishing Shows that Chuck Furimsky has put together over the past 21 years. For me it is a great chance to meet up with friends, see new gear, watch some of the seminars and shake off a little of that cabin fever that sets in this time of year. This years show delivered on all fronts.

As usual I started off on Friday rolling thru the exhibit area before the bigger crowds showed up. I like to do some quick scouting and plan out where I want spend some time later on Friday and into Saturday. Always glad to meet up with my long time friend Keith Torok as I get started. He also always comes prepared with a really good game plan for the seminars that I like to follow!

We then quickly jumped off and caught Ozzie Ozefovich's The Underwater World of Trout presentation. This was really educational and if you have not had a chance to hear Ozzie before take the time to catch up on one of his DVD's. Ozzie demonstrated through the use of cameras and special lenses placed into streams just what trout see underwater. A lot of on supporting observations and research, but one of the biggest tips from his presentation is don't wear anything lightly colored including kaki shirts and hats. Fly fishing anglers need to dress more to the surrounding meaning wear greens, browns and camouflage yourself. I look forward to following on this topic for a whole separate post.

We then caught up with my friend George Daniel for his seminar - 2013 Trout Lessons. George always provides an engaging presentation and a shared a lot of great new tips from his travels over the year. What makes George's presentations so good is that he is a not only a masterful angler, but still is an acknowledged student and takes delight in sharing new ideas. Fun hearing him speak about some of his recent exploits on the White River. Small overtures during his presentation about the sorted crew he was hanging with. Later found out he was traveling with likes from The Feathered Hook for the week. That will certainly make you want to grow a beard and find new colorful language. George is looking forward to working on his next book project on that will take on streamer fishing.

I made may way over to the professional fly tiers including Dave "Wetfly01" Allbaugh, Mike "firandfeather" Heck, Gaeron "Gaeronf" Friedrichs, Mike Schmidt and Anthony Giaquinto (Thanks for the fly Anthony) who were there for the weekend along with dozens of other tiers.

Plenty of members from the site there over the weekend including: Aducker, Lestrout, Pcray1234, Gaeronf, Old Lefty, Sbecker, Vcregular, Wetfly01 and host of people I missed like dubthethorax. I had a good conversation with Justin Pittman, President of Cumberland Valley Chapter Trout Unlimited, in regards to upcoming educational programs and 2013 State Fly Tying Championship, which has been impacted by the cancelled Eastern Sports & Outdoor Show.

Always pleased to see and spend some time with Justin and Evan at the Allen Fly Fishing booth. They were very busy and glad to hear about many Paflyfish members stopping by say hi and even better purchasing reels while I was even standing there. In the booth I got a chance to meet photographer, Rob Yaskovic and tattoo artist, Eric Hornung who both focus their own artistry with fly fishing. Glad that Justin made some room for those guys over the weekend in the booth.

The show was very well attended by vistors and vendors in the exhibit hall. There were many new booths from companies like Orvis and Cortland. Cortland brought in a one room cabin and caught my eye. Other traditional vendors like Rio recently updated some of the Trout LT series and the Rio fly lines over the past year. The newer Rio Gold line provides a better front biased weight to load rods at close range and improved casting control. Also caught up with Tom "Afish" Ciannilli, manager at the Plymouth Meeting Orvis Store. I liked the newer Safe Passage and Gale Force Packs as they provided a lot more size options and darker camouflage coloring on the water.

Great show and looking forward to following up with some specific blog posts covering some of the issues and ideas at the show. Next is the Lancaster Fly Fishing Show in March.

Published by Dave Kile [
dkile
] on 01/21/2013 (5923 reads)
Winter Fly Fishing - what do I do?

This winter has started off pretty mild for most in the region and there are plenty of fly fishing options right now. I am sure with this post I will jinx it for everyone, but let's just go with it anyway. Usually after the last NFL conference game I hear those dreaded words, "Isn't it about time you start cleaning up the basement?" That's the time I buy a new fishing license and break out my map.


Where
No secrets, but there are plenty of streams across the region that are open year-round that are often stocked in the fall or have naturally reproducing trout. Some really good opportunities can be found in the limestone spring feed streams too. They generally hold good water temperatures and some of the more challenging fly fishing opportunities. Take a little time and do some research for something new there are plenty of places to explore here in the forums!


When
Any day works as compared to moving your old soccer trophies in the basement. No sense waiting for that late evening sulphur hatch because that ain't gonna happen. On mild winter days your best bet is late morning through mid-day. Trout are going to be the most active when they get a chance to warm up a little (whatever that means when the water is 47 degrees). Certainly it will not be at the crack of dawn so a little sun on the water often helps, but not required.

Flies
If you are lucky on a warm day you may find a BWO hatch or some stone flies coming off. This is rare and will only happen on the warmest of days. So most of your time you spend chucking some lead. Everybody has their favorites and truly it depends on the stream. My approach to each stream is a little different. I often start with some streamers or woolly buggers. For stocked streams I like san juan worms, bead head nymphs and dare I say the dreaded green weenie when I get desperate (after standing in cold water that happens sooner than I like). For limers I might try more natural looking and smaller nymphs like walt's worm, pheasant tail and zebra midges. Do some experimenting.

Staying Warm
So it is pretty simple and this has been told to you plenty of times - Layers, layers and layers: Wool socks, wool hat and fingleress gloves are a must. Use a lightweight wickable base layer that will keep you dry.
Avoid cotton layers as they retain moisture and keep you cold. Add warm mid layers and outer shell or jacket that will break the wind. Try your gear on before and make sure it works. I almost busted a gut this year after the the holiday fattening season trying to fit into my neoprenes. I don't know who the jerk was that bought them, but the damn things must have shrunk or something. Throw some extra layers in the car just in case. There is a huge difference in taking a winter walk for one hour in 45 degree weather and standing in a stream that is 45 degrees. For me it is all about keeping my feet warm. I try to move about and stand on the edge of the stream every 20 minutes.

If you find the fishing slow you can get some time in scouting for some new fishing locations or just go home and move boxes from one wall to the other?

PS - leave a note, bring a blanket, food, and water. The last thing I need on my conscious is that you read this post and went fishing, got your arm stuck in a boulder or worse yet trapped in the Rathskeller in State College and didn't come home safely. Finally, as we have learned in our history classes about the Donner Party, bring along a friend, it never hurts.







Published by Dave Kile [
dkile
] on 01/15/2013 (2420 reads)
For those new to the sport, every year in the winter is the time for many of the outdoor sporting shows and fly fishing is now exception. Chuck Furimsky has been running The Fly Fishing Show across the country for many years. The Somerset, NJ and more recent Lancaster, PA shows are regional favorites in January and March.






Last Years Somerset, NJ Show



The Fly Fishing Show is one of my favorite events every winter, too. Certainly the opportunity to see all the gear, listening to some great speakers is awesome, but truly the best part of the show is meeting up with so many people I have known for years makes the trip special. You can't help but trip over members from Paflyfish while at the show.

Like many events there is a large exhibit area with everything fly fishing related that you can imagine: rods, reels, waders, boots, manufactures, fly shops, tying gear, trips and guides from all over the world.

Also in the exhibit hall is a section for celebrity fly tiers. Just an amazing array folks with vices out, fur and feathers flying and some incredible flies being tied.

There are host of authors and speakers to be found during the show. There are times to catchup with your favorite author during a book signing or catch them at a seminar. Favorites like Lefty Kreh, Joe Humphreys, George Daniel, Mike Heck, Ben Turpin, Eric Stroup, Dave Whitlock and plenty more.

If you looking for some new gear, wanting to improve your fly fishing skills or just anxious to see a lot of guys walk around with fleece jackets and ball caps this is the place and I wouldn't miss it.

There really is a lot going on at the shows. To check out more details here for the Somerset Show (Jan 25-27) and the Lancaster Show (Mar 2-3). You can buy tickets at the show.
Published by Dave Kile [
dkile
] on 01/07/2013 (1572 reads)
I always enjoy hearing about those in our fly fishing community that contribute and help others. Gaeron (Gaeronf) Friedrichs is one of the younger members of the site and has been doing just that this year. Recently Gaeronf has started the Delaware Valley Fly Fishing Club (DVFC) at Delaware Valley High School under the supervision of Mr. Schaffer.


As the founder and president, Gaeronf has organized the DVFC Thursday meetings and helped planned upcoming activities. The club has about 7 high school students looking forward to learning about and helping each other get started with fly fishing. At the first meeting in December they watched a video about the overview of the fly fishing sport. Subsequent meetings have been focussed on knot tying and learning how to tie flies. In future meetings the are looking forward towards learning about stream entomology and working on tying more flies.

Heritage Angler and others from Paflyfish have teamed up with DVFC on Saturday, January 12th to help provide hands-on lessons for the club members. More details about helping out this weekend can be found here in the forum. A special thanks to Heritage Angler and those volunteering their time this weekend.


The club is looking for donations and would graciously accept: rods, reels, fly lines, backing, tippet, leaders, forceps, nippers, fly boxes, vests, packs, split shot, floatant, strike indicators, flies, waders, etc. Please PM Gaeronf if you can help the club out.

Congratulations and good luck to Gaeronf in getting this club going. You can also catch Gaeronf at the upcoming Somerset Fly Fishing Show were he will be Ben Turpin's booth and catch his blog here.
Published by Dave Kile [
dkile
] on 01/02/2013 (1499 reads)
With the new year there are new options for multi-year fishing licenses being offered by the Pennsylvania Fish and Boat Commission (PFBC). Traditionally the PFBC has only provided a annual fishing licenses.


"Beginning December 1, we will start selling 3-year and 5-year fishing licenses for the first time in our history," said PFBC Executive Director John Arway. "Customers want options when they buy products, and fishing is no different."

A traditional 2013 annual licenses costs $22.70 plus $9.70 for the trout stamp for a total of $32.40. The three year license will run you $64.70 and a trout stamp is $25.70 for a total of $90.40. That is compared to $97.20 over three years of individual purchases for about a 7% savings when purchasing the three year combination. The five year license and trout stamp combined will run a resident $148.40 at a similar savings.

Senior resident and non-resident multiyear licenses are available as well again with similar savings. Multiyear Combo trout-salmon/Lake Erie permits are available too.

There is a lot of convenience and some small cost savings by purchasing a multiyear license. The real advantage is by avoiding any cost increases if they were to occur over the next several years.

Please go to the PFCB website here to learn more.
Published by Dave Kile [
dkile
] on 12/24/2012 (1439 reads)
I always enjoy this time of year and it is not just for the egg nog and watching my favorite holiday movies with my family. It gives me time to look over the year and think about all the good things that happened. I often think about what I didn't get to as well, but I'll leave that as little gift for my therapist to work on with me later.


-We had a host of Jams and Meet-ups through out the year including: The Steelhead Jam, Eastern PA Fly Tying Jamboree, Pocono Newbie Jam, Paflyfish Jam, Show up if you want to Jam, WarmWater Jam/Float, Catskill JAM, Quill Gordon Summit and many more. What I am always most proud of when I talk about the site is how helpful so many people are in helping others. People like Heritage Angler, Krayfish, PoconoPaul, The_Sasquatch, ryguyfi and many many others.

The site is made up of so many wonderful people that really think about and find ways to give back. Some of these are conservation efforts and many are just helping someone new to the sport. These activities touch a lot of people and I am thankful to be a part of that. I had some really good friends help me get started in fly fishing and I will hope you will continue to do the same.

In addition a special thanks to those who keep the site going and in order Maurice, Jack, David and Tom. Without their help WWII would look like a school yard brawl. They lead the site with so many efforts and I very much appreciate their support.

Our sponsors help to keep all the bits and bytes moving across the Internet and a special thanks to Allen Fly Fishing, Gogal Publishing Company, Montana Fly Fishing, Trident Fly Fishing, Harman's North Fork Cottages, Risen Fly and Rick Nyles at Sky Blue Outfitters.

Merry Christmas and Happy Holidays,

Dave
To all PAFF members, family, and friends:

The 2012 PAFF Eastern PA Fly Tying Jamboree will be held on Saturday December 15th, from 10AM - 6PM.

This event will be held at the Lehigh Gap Nature Center - a beautiful facility on the banks of the Lehigh River, near the intersection of Rt 873 and Rt 248. Information and directions to the Nature Center can be found here: http://lgnc.org/


Tyers of all skill levels are encouraged to attend this event, and as usual, this event is free of charge. This will be a great opportunity to showcase your tying skills, help others learn your favorite patterns, and will allow everyone to improve their skills and learn new patterns and techniques.

We'll have tying space for at least 30+ tyers, and room for spectators as well. Newcomers to the art of tying flies are encouraged to attend, and there will be an opportunity to practice on tying equipment that will be provided, as well as an instructor to teach basic techniques.

After the Jam, we'll be heading over to Riverwalck's Saloon for dinner and refreshments - we have an entire room reserved for us.

Check out the post in the Tying forum for further details on what to bring. Please sign up for this event in the post in the Fly Tying Forum, so we know who'll be attending and the flies being tied. Please note the categories of tying techniques, and try to pick a pattern that fits into one of the categories.

A raffle of tying equipment and supplies will be held at the end of the day, with all proceeds being donated to the Nature Center. We should have some great items to win!

Looking forward to seeing old friends, and meeting new ones. This should be a really fun day!

Photo and fly by David Weaver

Published by Dave Kile [
dkile
] on 12/03/2012 (1071 reads)
2012 NJ Fly Fisherman of the Year from Tightline Productions on Vimeo.
The 3rd Annual NJ Fly Fisherman of the Year contest was held on November 10, 2012 on the South Branch of the Raritan River at Raritan Inn in Hunterdon County, NJ. Each of the ten New Jersey Trout Unlimited Chapters were invited to send challengers to this years competition. This year held some changes to the stream. During July fisheries biologist Joe Urbani and his team spent time working the stream bed to lower water temperatures, create defined channels, add holding pools and create scour potential to keep the river running deep. The next effect is a vastly improved stream and lots of pockets for the trout. There were nearly two dozen identifiable fine places to fish.

The day started with check-ins, hot coffee, and some rules orientation. The early rounds consisted of two fishing sessions and a "bye" cutting the contestants to three for the afternoon finals. Angelo Conti, Stuart Shaffron, and John Wester battled it out until a few minutes before the bell with Angelo Conti taking top honors. There was a serious amount of talent in the waters of the South Branch for this event. Thoughtful fly selections, multiple styles and plenty of river stewardship was evident all day long. The fellowship grew into the eventings banquet and generous amounts of comraderie.

Angelo Conti took top honors for the day with multiple large catches and a deft hand on the rod. More results can be found here.

Video provided from Tightline Productions.