Category
Last published item
PaFlyFish.com

Steelhead Jam Report 2015
Fly Fishing

My Montana Trip September 2015

Product Review

Product Review

Streams Map USA for iPhone and iPad

Fly Fishing Tips

Fly Fishing Photography: Getting the Shot with ...

Getting Started

Getting Out For Fall Fly Fishing
Interviews


Interviews

Another Great Fish – Old George
Conservation

Rivers Conservation and Fly Fishing Youth Camp in ...
Fly Tying

Fly Tying Instructions - Son of Sexy Walt's
Pennsylvania Fish and Boat Commission

Rainbow Trout Spawning at the Huntsdale Hatchery
Published by Dave Kile [
dkile
] on 03/25/2013 (1145 reads)
Heritage Angler, Pcray(in the photo) and Foxgap239 put together the planning for another Newbie Jam on March 16. One of the several meet ups every through out the year that members on the site put together to fish or provide instruction.

The focus of the jam was the coaching and training to those new to fly fishing. The Newbie Jam was held at the Wildlands Conservancy's Pool Wildlife Sanctuary in Emmaus, PA on March 16.

Several members here from Paflyfish helped Heritage Angler, Pcray and Foxgap239 to then deliver hands-on training about many different topics including:
• Gear/Setup - "Head to Toe"
• Knot Instruction (hands on)
• Leader Setups
• Entomology (What trout eat, and their imitations)
• Fly Tying For Beginners
• Fly Casting Instruction
• Where to Fish – Types of Streams, and How to Find Them.
• Wild Brook Trout Fishing – Gear, Techniques, Navigation

Also in attendance was site sponsor Michael from Gogal Publishing sharing information about fishing guides.

I very popular event and one that speak volumes to the Paflyfish Community. Heritage Angler summed it up pretty well , "Today reminded me what good friends I've met through PAFF. I hope everyone makes the kind of friends that I've met here. Good fishing buddies are the best kind of friends, and I've been blessed with some truly great ones."

A special thanks to Heritage Angler, Pcray, Foxgap239 and all those who helped put this together.
Published by Dave Kile [
dkile
] on 03/18/2013 (1745 reads)
Have you ever planned to go on a trip and wanted some extra rods, reels or more? Have you been interested in trying some new items out before you buy? Well the Rental Fly Shop now offers a way to rent rods, reels, boots, waders and clothing.
The
Rental Fly Shop
is a subsidiary of the TCO Fly Shops. Chris Frangiosa, Manager, at the Bryn Mawr store filled me in at the Fly Fishing Show in Lancaster about the new services. "Rental Fly Shop was designed with both the beginner and the advanced angler in mind," shared Chris. "This site enables anglers to test multiple items before purchase, try the sport for the first time without a major investment, rent gear for a trip and much more," added Chris.
I like the idea that they can provide complete set-ups for anglers. Seems to be a great offering for guides who need extra gear for clients. Anglers trying to introduce the sport to friends and especially if you have a trip in mind.
They provide a selection of gear from manufactures including: Simms, Patagonia, Scott, Sage, Orvis and Abel. Equipment can be picked up or shipped. Consumable items like flies are not available to rent, but are available at the stores.
For more information you can check out the website (
www.rentalflyshop.com
) or stop in any of the TCO Fly Shops and learn more.
Published by Dave Kile [
dkile
] on 03/13/2013 (1327 reads)


I met Bill Kosmer a few years ago on a trip to the Fly Fishing Show in Somerset. I really enjoyed his knowledge and observations with the many conservations issue that our waterways face in the region. His photography also caught my eye. When I heard about Bill heading on a trip to Chile I was sure he would be coming back with some good stories and some fantastic images as well.

With his DSLR cameras and two Contour video cameras he and his friend, Herb Baker, captured their trip into South America. I really enjoy seeing fly fishing from around the world and lucky when we can get a first person point of view from someone in our region share their story. Give yourself a little time to kick back and enjoy Bill's journey fly fishing in Chile from February 2013.

About Bill -
Bill's passion for fly fishing and photography was set in motion at an early age by his father. He spent most of his childhood days fishing the mountain freestone streams of his home waters of North Central Pennsylvania. Since those early days, the pursuit of wild trout has become a lifestyle for Bill. Over the last 20 years, camera and fly rod in hand, he has traveled extensively to fuel his passion for pursuing wild trout in remote locations from southern Chile to Montana to the backwoods of PA. His photos and writings have also appeared in the Drake and several newsletters and catalogs. He has given numerous presentations on his adventures and is an active member with the Doc Fritchey Chapter of Trout Unlimited in Harrisburg, PA, giving back to the resources he values so much. Bill is also an accomplished fly-tier and licensed guide. You can follow Bill further on his blog Trout Tails.
Published by Dave Kile [
dkile
] on 03/08/2013 (1721 reads)
When I grow up I want to be Hank Patterson. It's Friday afternoon and we all need a little fun to start the weekend! Good news Hank will be at the Simms Ice Out too.
http://youtu.be/llba13w0Xb8
Published by Dave Kile [
dkile
] on 03/06/2013 (2091 reads)

Last week while fishing at Big Spring Creek, David Weaver pointed out a section of the stream that had some bank stabilization completed with logs supporting and narrowing the stream. He commented that the project was completed by the students participating in the Rivers Conservation and Fly Fishing Youth Camp several years ago. I was impressed to see what a good job had been done to help the stream out and it was in great condition after several years.

For those not familiar with Rivers Conservation and Fly Fishing Youth Camp it is a week long summer camp held every year in June for young men and women to become more educated on the importance of coldwater conservation.

A good portion of the time during camp students spend time in a classroom setting. Classes include studies of entomology, wetlands, ecology, hydrogeology, aquatic invertebrates, hydrology, watersheds, the biology of pollution, trout behavior and stream restoration. There are many sessions that take place on the stream or outside during the week.


The instructors in the program often include leading experts including many from state agencies like the PFBC, DEP and DCNR. Also many expert volunteers from the fly fishing community help out during the week. The Pennsylvania Council of Trout Unlimited sponsors the program with help from the local chapters.

Every morning and evening the participants are given the opportunity to fly fish the catch and release section of Yellow Breeches where they stay for the week. June on the Yellow Breeches is an excellent time to be fishing. Lessons in casting, knot tying, fly tying and more are also part of the curriculum.

The cost of the program for youths between the ages of 14-17 is $350. There are different ways that finanical support is provided and there are several openings still available. The deadline for the early acceptance period is March 31, 2013.

Truly an exciting opportunity to learn more about conservation and enjoy fly fishing as well. To find out more please go to the website here where they also provide applications.

The members of Paflyfish at last years May Jamboree collected money and made a donation in support of the students attending Rivers Conservation and Fly Fishing Youth Camp.

Published by Dave Kile [
dkile
] on 03/04/2013 (3886 reads)
We have some fantastic anglers on this site and many who have shared some wonderful images from their fly fishing experiences. It doesn't matter if photography is your passion, your hobby, or just an occasional pastime, we invite you to participate in the Paflyfish photo contest, recognizing the beauty and character of fly fishing in the Pennsylvania fly fishing region. I thought it would be fun to capture those images this winter.
Winning photos will be displayed on the Paflyfish website and we have prizes from our sponsor
Allen Fly Fishing
. Allen Fly Fishing is offer prizes for 1st, 2nd and 3rd place. Details of those prizes will be shared shortly, but you can be sure it will involve fly rods and reels!
Both amateur and professional photographers are welcome to participate. Photos must be submitted in digital format; see contest rules for details.
Each participant may submit one photograph in total. All images must be digitally uploaded. You can upload your images at the photo section. Select the "
2013 Winter Photo Contest
" Category when submitting your photograph.
Start Date: December 21, 2012 at 12:00 AM, EST End Date: March 19, 2013 at 12:00 PM EST. We're not responsible for errors that may terminate the contest early so enter soon.
Sorry for the length and this is intended to be fun, but most all questions can be answered by reading the rules and directions below. Please read!
No payment necessary to enter or win
Photo Eligibility
To enter, you must be at least 18 years of age and a U.S. citizen. PaFlyFish.com employees, moderators and their immediate family members are not eligible. All photos must be taken in Pennsylvania region, which includes: New York, New Jersey, Maryland and Ohio during the timeframe of the contest. The photo subject must be relevant to fly fishing in the region.
How to Enter
Digital photos may be submitted online only. You must register on the PalyFish.com website. Previously uploaded photographs can be resubmitted. You can upload your images in the photo section. Select the "
2013 Winter Photo Contest
" Category when submitting your photograph. Entries must be received by the deadline (see above). Digital images will not be returned. No mail or postal entries accepted.
Image Modifications:
Minor digital enhancement is permitted, but images that have been significantly modified or appear unnatural will be disqualified.
Not Permitted:
* No borders or frames may be added to images.
* No watermarks, signatures, or copyright notices may be added to images. All winning images will be displayed with the photographer's name.
Photo FormatsEntries must be digital JPEG images and images should be 1024 pixels on the longest side at 72PPI
. Please read the specific guidelines for submitting prints and digital images. Winning entries may be requested to provide larger available images.
Judging
Entries will be judged on the basis of creativity, photographic quality, and effectiveness in conveying the beauty and/or unique character of
Pennsylvania
Winter Fly Fishing.
Winners
Judges will select a first, second and third place winning photos. Winners will be announced on the website and notified approximately 1-2 weeks after the contest deadline by website private messaging and email using the information provided in your PaFlyFish website registration. Winning photographs, along with the photographer's name, email address (optional) and information about the photo, will be displayed on the PaFlyFish.com website.
Photographer/Copyright
Entries must be submitted by the original photographer. Do not submit a photo taken by someone other than yourself. You must be the sole owner of the copyright of any image submitted. Your submission of the photo and entry form is your guarantee that you are the author and copyright holder of the photo.
Photo Subject Restrictions
We cannot accept photos that contain any nudity and follow site guidelines. PaFlyFish.com retains sole discretion as to what constitutes inappropriate content. Winners will be selected based on several criteria including, originality, theme, technical & artistic details, story, and visual impact. Notified winning photos containing recognizable people must be able to provide a signed model release to be announced as a winner.
Ownership/Use Rights
Photographers retain the copyright to their photographs. By entering the contest, photographers agree to have their submitted photograph displayed on the PaFlyFish.com website without any fee or other form of compensation, and agree that PaFlyFish.com may display winning photos in a "past winners" photo gallery, and may make and retain copies of the photograph for archival purposes. Posted photos will be subject to the PaFlyFish.com website photo use policy. Photos will be credited to the photographer named in the entry form. Entries (including non-winning entries) may be selected for display or use in PaFlyFish.com web pages. Your entry to the contest constitutes your agreement to allow your photographs — and your name, city and state of residence — to be published as selected award winners in all materials related to the contest and to be published or used on websites owned or operated by Kile Media Group and PaFlyFish.com; and used for promotions of the website including, but not limited to, exhibitions, a photo calendar, a compilation book or electronic collection of photographs, online photo features, and web pages providing information, updates, rules and photography and fly fishing tips. Entrants retain Copyright ownership and all other rights to future use of their photographs. PaFlyFish.com shall have the right to verify, in their sole judgment, winner eligibility.
Published by Dave Kile [
dkile
] on 02/25/2013 (1538 reads)
The Paflyfish Moderators decided to take a day off from the forum and left the site in the good hands of Jack. We made our way to south central Pennsylvania to one of the more popular limestone streams.




Actually a reasonable winter day with temps in the upper 30's, water temps in the low 50's and a mix of sun and clouds. We had hoped for some BWO's, but got snow flurries by the end of the day instead.



The fishing was pretty good as Dave landed real nice 20" rainbow early on. Tom proceeded to quietly catch fish for the rest of the day. Maurice and I tried our best to keep up.



Dave took a quick stab with his net into the elodea and showed just how limestone streams sustain a rich abundant aquatic life through out the year with cress bugs, sculpin and shrimp.

Always great to catch up with them on the stream. The site is very fortunate to have great guys like Maurice, Dave and Tom helping support site in so many ways. Their dedication to the site and fly fishing really make a difference here at Paflyfish.

When ever we get together and start catching up I am quickly reminded just what a wealth of fly fishing knowledge these guys offer to the site. I always learn so much when I hang out with them. Thanks so much for your help!

Some more photographs on Facebook.

Sorry Jack could not join us and hope he can make it with us next time.
Published by Dave Kile [
dkile
] on 02/20/2013 (1715 reads)

I had been looking for a wader and boot bag for quite some time. For over twenty years I was using a 5 gallon plastic paint bucket as my boot storage of choice. I store my gear in the garage and after continually finding stinkbugs in my boots along with a few cracks in my beloved bucket, I figured it was time to get serious about a real bag.


Last March I finally settled on the Fishpond Pawnee Gear Bag. It served the perfect combination of storing my boots on the bottom and waders in a separate top compartment. There is an extra gear compartment to stash plenty of other fly fishing boxes and other gear.

The bag is well built out of nylon with sturdy large zippers to access the different storage areas. The bottom boot compartment also holds a fold-out padded changing mat. The base storage area for the boots is nicely ventilated all he way around.

I have used the bag for almost a year now and very pleased with the value build quality. The large top wide mouth open provides easy access to stash my waders quickly and easily. A shoulder strap makes it easy to haul around as I usually bring enough gear when I fish to make Lewis and Clark jealous.

I like the size and large anvil style opening. I paid list price at $139.00 which may put off some, but it is well built and see it lasting a long time and a solid investment. All and all a good purchase and one I would suggest
Published by Dave Kile [
dkile
] on 02/11/2013 (2332 reads)
by Brian McGeehan at Montana Angler Fly Fishing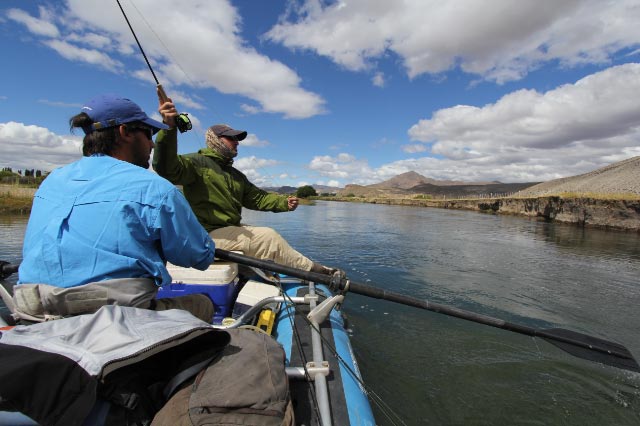 Our trip to Argentina in 2013 proved to be a diverse adventure that spanned both the southern and northern areas of the country. After flying into Buenos Aires we spent a day in this beautiful European style city enjoying the sites and of course some incredible Argentine steaks. The first leg of the trip was an overnight fly fishing trip on the Chubut River in the center of Patagonia. The second leg of the trip was to the Ibera marsh ecosystem in the Corrientes province in the extreme north of the country in a quest to catch the unique golden dorado.

Golden Dorado
Golden Dorado are native to South America in a relatively small geographic region that includes Northern Argentina, Uruguay, Southern Brazil and some small pockets in Bolivia. Most of the fisheries are located in the Paraná River and its tributaries. There are also a few pockets of the species in Bolivia at the headwaters of the Amazon basin. Dorado are river fish and have a similar profile as that of a salmon including an adipose fin. Just like salmonids they prefer to current features when selecting feeding lies. Golden dorado are fierce piscivores and aggressively take large streamers.. They are fierce fighters and nearly always jump when hooked. Golden Dorado have not been transplanted out of their native range and they have only come onto the radar of international anglers in the last 10-15 years. Although some of the largest dorado are caught in the larger Paraná River many fly anglers choose to target the fish in the relatively few locations where clear waters prevail. Catching a large, strong and aggressive dorado in a river that resembles a trout stream is truly a rush. Imagine fishing for small tarpon on the Madison! The primary locations that support guided golden dorado fishing are the new Tsimane Lodge in Bolivia, the Salta region of Argentina and the Ibera Marsh at the headwaters of the Corrientes River. Most of the fishing at Tsimane and Salta is wade fishing on smaller clear rivers. There is also a large river, the Rio Juramento, near Salta that is floated in rafts for trophy dorado. On our recent trip south we split our trip between Patagonia and Northern Argentina where we targeted the Ibera Marsh which offers a unique clear water fishery accessed by Bahamas style flats boats.

Pira Lodge
Pira lodge is located in the Corrientes province of Argentina which is sandwiched between Brazil and Paraguay. The province is known for its colorful people and traditional music. We took a first class overnight sleeper bus which was surprisingly comfortable with large leather chairs that lay flat into beds along with bar service and meals. After sleeping on the bus all night we arrived refreshed in Mercedes and were greeted by the lodges transfer driver. Pira is located on the edge of the vast Ibera marsh system and the drive is about an hour an half from Mercedes across rutted dirt roads. The lodge itself is spectacular with an array of insects, huge toads and countless colorful birds making a never ending raucous chorus each evening. After settling in we met with Noel and the guides. Noel was the head guide for over 13 years at Pira and then went on to start Tisamane Lodge in Bolivia and is one of the most respected dorado anglers in the world. Unfortunately the news on the fishing front wasn't good. All of Argentina had just endured an unusual three week stretch of very wet and cold weather. Dorado are a warm water fish and become lethargic in colder waters and just like trout they don't love rising flows. Despite the disappointing news we were determined to give it our all.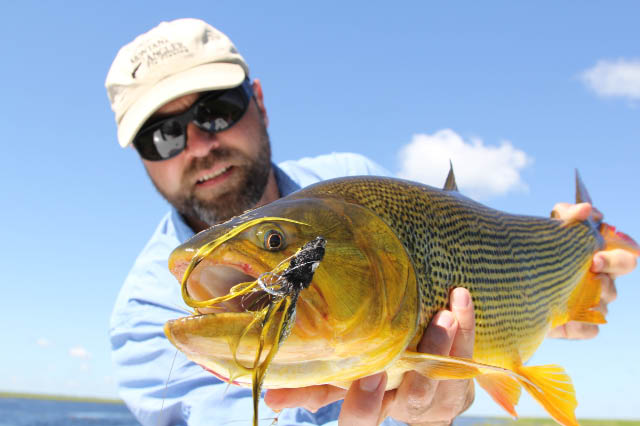 Pira Day 1
With the unexpected conditions and higher flows, Noel and the guides felt our best shot at fish was to go down deep in the main Corrientes river channel. Pira is known for its floating line fishing and aggressive surface takes but with the cooler water it was unlikely that the dorado would be very active and certainly not on the surface. At the end of the first day we hit pay dirt and Anthony and I each hooked and landed two nice 5-7lb dorado in the waning hours of the evening before heading back to the lodge. The fish are absolutely amazing and hit like a sledgehammer. The fight is just as impressive as these incredibly strong, trout shaped fish leap over and over and take of on blistering runs. When the dorado are landed their magnificent gold flanks and orange and black tail cap the experience.

Pira Day 2
The fishing at Pira is broken into morning and evening sessions. Each day we headed out in flats boats through a labyrinth of small channels. The marsh ecosystem is spectacular with over 350 species of native birds of all shapes, colors and sizes. The birdlife was absolutely spectacular and I can't say I have ever been to an equal location in this regard. In addition to the birdlife we regularly saw large crocodile like caymen and huge rodents called capybara. Day two produced some very tough fishing and although we all had a few hits and follows no dorado came to the boat. Noel came along on day two and he and Anthony scouted some of the smaller tributary "creeks". These are small channels through the marsh with current just like a spring creek and very clear waters. While scanning from the boat they successfully located a lot of large dorado in the system which lifted our spirits to at least know the fish were there. One of the challenges of the high water in the marsh is the fish are spread out and often relocate so finding the fish was a welcome discovery.

Pira Day 3
The morning fishing continued to be frustrating with a lack of success. With each hour of futile casting our team began to lose hope in the prospects of hooking the golden fish. Occasionally our hope would be lifted by a follow or take. I lucked into a hefty 7 pounder at the end of the morning and that was the only action to report. In the evening session I was solo with Noel and we decided to try some of the smaller creeks where they had seen some fish the day before with a floating line. We finally started to see the marsh begin to wake up in terms of fish activity and spotted a few dorado rolling from time to time. Noel explained under normal conditions dorado are frequently rolling and attacking bait fish in explosive disturbances than are easy to spot. This seemed to be a good sign and sure enough the action followed. By the end of the night I had hooked into 5 dorado and landed two along with several large piranha and an interesting fish called a san antonio. This still wasn't on par with the regular catch rates which average 4-10 dorado per person per day but it was great to get a taste of what the fishing can be like. The takes on the floating line were a huge rush and it was incredible to see the dorado in the clear water producing a wake as they attacked the fly in a huge boil. Unfortunately the other boat didn't find similar success on the larger river down current.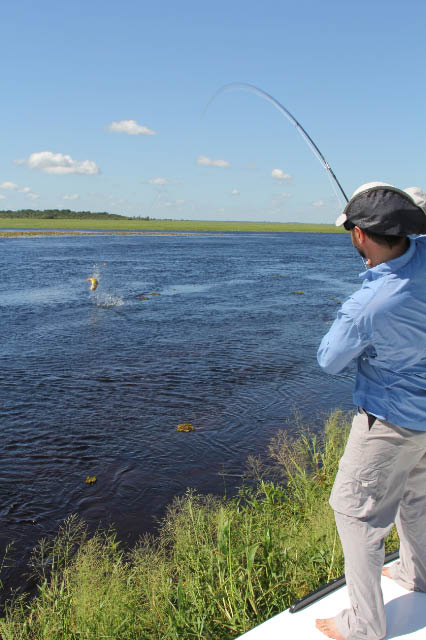 Pira Day 4
The rains that started the evening before continued into the night and eventually turned into sustained downpours. The amount of rain that fell was unprecedented and a true spectacle of nature. The swimming pool that was 18" from the top the day before was overflowing in the morning. The marsh grew before our eyes and huge lakes formed in all directions around the lodge. We gave up all hope of fishing in the torrent and focused our attention on getting out across the dirt roads early enough to catch our sleeper bus. Our amazing hostess Marcela decided to have the shuttle drive arrive 5 hours early to play it safe. When he was an hour late she loaded us up in her own truck and we started heading out hoping to meet him on the road out. The roads were terrible and just a few minutes from the lodge we were driving across flooded areas. Marcela crept along and stayed ruts to avoid sliding off the slippery clay road. After 30 minutes of progress our hearts sank as we came around a bend and saw the road completely under water as far as the eye could see with a Toyota Hi-lux truck nearly underwater in the ditch. It looked like our stay at the lodge would be extended for several more days. There were some local gauchos around and Marcela went out to talk with them. It turned out that her husband was the one that lost the truck in the flood but he was the manager of several estancias in the area and had guessed we were coming. Our transfer driving was waiting on the other side of the flooded road and the gauchos let Marcela know that they could ferry us across. The next thing we knew we were horseback and praying these horseman were confident in their assessment of the waters. The current was swift across the road and the level came up to the horses bellies. We had to ride at a bit of an angle so the horses could ferry into the current. After the longest 500 yard horse ride of my life we made it safely to the other side where our drive awaited. The gauchos crossed the flood again to retrieve our luggage via horseback and we were off again. Just when we thought we were out of the woods we encountered another flooded section (the water had kept rising since the drive had come from town). It wasn't as bad as the other stretch but still very intimidating. We all held our breath as the truck headed into the flood with water coming in through the doors. It was a very quiet cab until we finally made it across the last obstacle safely. Nearly five hours later we finally made it to the bus station with only minutes to spare!

Brian McGeehan is a native Pennsylvanian and owner of Montana Angler Fly Fishing (http://www.montanaangler.com) based in Bozeman, MT. Brian is also an avid international angler and leads annual trips to Argentina, Chile and the Bahamas.

Published by Dave Kile [
dkile
] on 01/31/2013 (2473 reads)
By Andy Wagner at PA Undercurrent Outfitters



Let's get one thing out of the way right now. This fly is in no way an original. True, I gave it a name. It's also true that I came up with the color combo through days of trial and error. But I still can't take credit for its creation. Fly tiers are all bandits, me included. We're petty thieves looking for any chance we can to rob another of ideas and designs. Innovation is something we rarely arrive at on our own. We pick pieces and parts out of fly patterns along the way to arrive at our own style. There are some among us who can claim to come up with these hot "new" patterns all by themselves. Honestly, I'm not that creative, so let me be the first to say that my fly patterns are stolen. Yep, I'm a thief and it feels good to confess my banditry.

The name of the fly indicates the water that inspired this streamer. Although I fish and guide the big name trout streams here in Central PA, the warm water of the Juniata River is my home. It's where I caught my first fish and many of my most memorable fish since. Lately I've been daydreaming about the Juniata and smallmouth fishing in general. It might have something to do with the weather. Nothing makes a guy long for floating and wet wading a warm water river like 10 degrees Fahrenheit.

In these daydreams the weather is warm, the water is clear, and a buddy and I are floating the river. The bass are active in this little scenario of mine. They're more than willing to eat a streamer ripped off the bank or through a mid-river bucket. We're throwing a 1/0 Dirty Fry, and the smallies are blowing up in every likely holding lie.

This fly has been one of our most productive patterns over the last few years. Trophy bass of the Juniata are cannibalistic creatures. The sun is high, and we jockey back and forth from the rower's seat to the front of the boat. In our boat, whether you have a hot rod or not, you're bound for some time on the sticks. It's the heart- thumping kind of streamer fishing we all enjoy, but as always it stays relaxed. Above the riffles and glides cigar smoke mingles with our philosophy and lies. The smell of the river is mixed with the aroma of fresh cut hay. The bass themselves are strong, fat, and sporting a lot of attitude of course. Who would dream of anything else?

Andy Wagner was born, raised, and now resides in a village conveniently located between the smallmouth of the Juniata River and the brown trout of Penns Creek. When he's not fishing, tying, or guiding he works at his barber shop for gas money.