Category
Last published item
PaFlyFish.com

Annual Spring Jamboree 2019
Fly Fishing

Harmans's West Virginia Trip Report

Product Review

Product Review

Hardy Zephrus Ultralite Fly Rod Review

Fly Fishing Tips

Fly Fishing Boxes and the ShamWow Guy is No Help

Getting Started

Getting Out For Fall Fly Fishing
Interviews


Interviews

Interview with Justin Pittman of Precision Fly ...
Conservation

Macroinvertebrate Survey Through the Seasons
Fly Tying

2018 Fly Tier's Reunion - Seven Springs, PA
Pennsylvania Fish and Boat Commission

PFBC Adds Six Waters to the Keystone Select ...
Published by David Weaver [
Fishidiot
] on 09/23/2013 (12777 reads)
By Dave Weaver
President of the United States and General of the Armies Dwight Eisenhower was an avid outdoorsman and enjoyed a wide range of shooting and fishing pursuits. His retirement home here in Gettysburg is managed now by the National Park Service as a museum and historic site. NPS archivists and historians currently hold many of Ike and Mamie's personal possessions in a separate storage area where they're being conserved and catalogued. I was able recently to get access to this storage site to photograph Ike's fly rod and some of his other fishing gear. Also on display at the farm's reception center is a fly/spin combo rod.
Ike undoubtedly owned a good many rods and reels and some have perhaps been lost to history, held in private collections, or may be stored at Abilene. While he enjoyed all manner of fresh water fishing, Ike was particularly fond of fly fishing for trout. Local rumor has that streams around Camp David were stocked with trout whenever Ike was visiting and local anglers, upon hearing that Ike had been at camp, would flock to fish the downstream areas of these creeks and catch the remaining fish.
I'm not sure if he spent much time salt water fishing however there are three different sand spikes and a chum pot in the NPS collection. The fly rod is a Pflueger R3780 in eight foot length and made of fiberglass. The White House tag can be seen on the rod bag. The small bottle is dry fly treatment and labeled Silicote Dry Fly Dressing, copyright 1946. I'd like to believe that this fly rod and some of the other gear might have some neat stories to tell. Ike loved fishing and, with the great responsibilities he carried on his shoulders, one certainly can't begrudge him his days on the stream.
For Eisenhower, like many of us who love fly fishing, the sport probably served as way to make a point about something else. In the next photo, Ike has just been nominated and is getting acquainted with his new VP Richard Nixon in Fraser, Colorado. The renowned historian Stephen Ambrose wryly wrote of this photo,
In casting, as in politics, Eisenhower was terribly earnest in his attempts to educate Nixon, with frustrating results in both cases.
(Photo and quote courtesy
Eisenhower Soldier, General of the Army, President- Elect 1890-1952
by Stephen Ambrose, p 170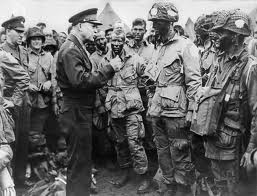 Perhaps the most famous wartime photo of Eisenhower is just before D-day when he's chatting with paratroopers from the 101st Airborne getting ready to jump into Normandy. For years I've wondered what sort of pep talk was he was giving them? Well it turns out that the tall lieutenant on the right in the photo was from Michigan and later told the story that, when he told the general where he was from, the discussion turned to – no surprise – fly fishing. The cameraman just happened to shoot the photo as Ike was demonstrating the intricacies of fly casting to his rapt audience of Soldiers. Perhaps we can hope – and I'd like to believe – that this brief focus on fly fishing, at least for a few moments, served as a brief escape for these troops from the onerous duties awaiting them over the next days.
The author would like to thank Mike Florer of the NPS for assistance with access to these artifacts. For more information on the Eisenhower National Historic Site or to plan a visit, please hit:
http://www.nps.gov/eise/index.htm
Published by David Weaver [
Fishidiot
] on 08/28/2013 (13784 reads)
This summer the Cumberland Valley Chapter Trout Unlimited (CVTU) volunteers have completed another section in a multi-phase habitat improvement project in The Run in Boiling Springs. The first log wing deflector that was completed last summer. More recently the parking lot was finished early this summer.

The next pics depict the log vane deflector under construction and completed over the summer as well. This was about 25 yards downstream from the AT footbridge and turned a fairly flat, featureless pool with a depth of about a foot, into a much deeper section with a nice plunge pool and better flow/oxygenation. Within minutes after we completed this, I saw a couple nice trout move up under the logs.










Thanks are due to the Bureau of Forestry for donating the logs and Pennsy Supply for the shot rock. Also: PFBC, Shane Gilbert, and (as always) Gleim Environmental for their time and help. It's much appreciated.

In August the ongoing project by CVTU to improve habitat in The Run continued. Two additional vane deflectors were installed just downstream with the help of the students from the Rivers Conservation and Youth Camp. In the past, many of you have supported CVTU or the youth camp with donations or flies.

If you have not fished The Run in Boiling Springs lately, drop by. It's holding fish in large numbers this summer (this has not been consistent in recent years) and fishing well, even in the hottest weather. The improvement projects have worked well and fish can be seen holding both above and below them. Just a couple nights ago I was fly fishing, I managed an very nice brown trout on my third or fourth cast in The Run.

It's been a good year for The Run as well as the Breeches itself. I think the improvements have turned out well. Drop by and check 'em out.

Special thanks for CVTU for their efforts on this conservation effort for anglers.

Published by Dave Kile [
dkile
] on 08/15/2013 (2557 reads)
Our friends over at from Tightline Productions offer up a video instructions on tying up a Black Foam Beetle for summer fly fishing opportunities.
Foam Beetle from Tightline Productions on Vimeo.
Published by David Weaver [
Fishidiot
] on 07/29/2013 (2899 reads)
Book Review by Dave Weaver

My Life was This Big And Other True Fishing Tales
Authored By Lefty Kreh
Introduction by Nick Lyons.
Skyhorse Publishing, New York, NY 2008. 262 pp
This is an enjoyable auto biography by Lefty Kreh – arguably the current dean of fly fishing. It has long been my opinion that the Greatest Generation has made a unique and permanent impact on world history and Lefty Kreh remains today among the few fly fishing authors from this generation that are still alive and active in the sport (Stu Apt comes to mind too). So many of them, like AJ McLane, Charles Waterman, Jack Sampson, Ted Williams and others – men whose lives were steeled in the cauldron of World War II - have since passed on. Lefty, amazingly, is still going strong. When I watched this octogenarian teaching his casting seminar recently at the Fly Fishing Show I remain amazed. To say someone is a national treasure, or living legend, has become trite…….but if there's a person in the fly fishing realm today who can live up to this description, it's Lefty Kreh: the great fly fisherman who never seems to age. I've certainly never fished with, or really even spoke to, Lefty but having had the great privilege of having many friends from his generation (something I appreciate a lot more now than I did when I was younger and these friends were still alive) I recognize the humor and humility that so many of them seem to have when I watch Lefty at shows. If you've never watched Lefty at a fly fishing show, don't miss the next opportunity. He's a hoot. If only I could have learned more from my WWII veteran friends when they were still around….. So watch Lefty if you can – time is running short.

This book follows the basic autobiography format with the Lefty's recollections of his life and involvement in the sport. Lefty was born in the mid 1920s in Frederick Maryland and grew up the hardscrabble life so typical of dirt poor kids in the Great Depression. His stories of childhood and the challenges of the day are the stuff that made Baby Boomers roll their eyes a generation ago: food shortages, ragged clothes, walking miles to school in the snow. Nevertheless Lefty had a happy childhood growing up in a mixed race neighborhood and lived a life of adventure catching catfish for money on his home stream, the Monocacy River. He also developed his lifelong affinity for improvisation during these years.

Naturally, I was particularly interested in Lefty's chapter on the war. Drafted like so many of his generation, Lefty hated the Army. It just rubbed him wrong with so many of the petty trivialities and rigidness that anyone who has attended basic training can relate to. He served in Europe as an artillery forward observer in the 69th Division, a dangerous but critical job and suffered in the cold and terror of the Battle of the Bulge. Lefty still has some residual effects of frostbite. Always focused on the next good thing coming down the pike, Lefty noted that he didn't really think much about the conflict for many years afterwards.

His career as an outdoor writer started after the war, like most writers of the time, with local newspaper gigs and grew into national writing for the well known magazines of the day. Much of Lefty's early career is dominated by his time in south Florida managing fishing tournaments and improvising fly fishing technique. He fished with Ted Williams, Earnest Hemingway, Joe Brooks, and even Fidel Castro and virtually everyone who was part of the dynamic south Florida fishing scene in the 1960s. Interestingly, when he screwed up the courage to ask Hemingway the secret to good writing, Papa answered, "It can't be edited" – a comment Lefty found fascinating. He also tells the story of the Lefty's Deceiver, quite possibly the best known salt water fly pattern of all time.

Lefty, like many of us, just loves smallmouth bass but, like many of his generation, tends to feel that fishing today is nowhere near as good as it once was. He describes the Potomac River and river bass fishing in the Mid Atlantic generally as much worse than it used to be and, partly, attributes this to rivers being "too clean" today. He's also skeptical of many biologists who feel that bass populations are excellent and the rivers are healthy today, feeling that many of these biologists lack perspective and are not from this part of the country. Personally, I found these contentions among the few fishing related opinions expounded by Lefty with which I'm personally skeptical. Perhaps if I'd known what the Potomac was like 50 years ago, I'd have a different opinion, but alas, we're all prisoners of our own perspective and times.

Of course, Lefty is well known for his knowledge and teaching of fly casting and he explains his Four Principles of fly casting. He has also been a long time critic of the old "10 and 2" concept that has been taught to countless beginners for years. Lefty thinks its nonsense and rails against this maxim in page after page of this book.. Among the many stories about famous fishermen he's known, Lefty describes George Harvey as, "the best trout angler I've ever fished with."

On the subject of writing and, generally, the business side of the sport of fly fishing, Lefty offers some interesting perspectives. He feels that "fly fishers are the only anglers who habitually buy books" and argues that there are probably more books about fly fishing than any other outdoor topic. However, Lefty feels that avid fishermen don't have much money and this has put a crimp in the willingness of corporate sponsors to get behind TV shows and such and, due in part to this, sport fishing is fading in America. The angling TV shows today focus mostly on bass fishing, and trout or salt water fly fishing shows aren't thriving. He also doesn't care much for the new fly fishing tournament scene writing, "Most real fly fishermen are resisting this influence" and frequently points out that fly fishing is (or should be) a non competitive endeavor.

One topic I'd hoped Lefty would touch on is the rise of fly fishing blogs and the future of fly fishing print media but, other than this, his perspective on the sport is vast and he has fished with most everyone that is famous in our sport in the last half century and this book is replete with descriptions of these folks as well as all sorts of wisdom about all the famous game fishes we chase (or hope someday to chase). Lefty closes the book with, "That's life. That's fishing. I've loved them both." A more fitting and essential philosophy could not be articulated for a guy whose life really was this big.

David "Fishidiot" Weaver is a moderator and regular contributor on Paflyfish. Folks can find more about David and his artwork at www.rodandbrush.com
Published by Dave Kile [
dkile
] on 07/23/2013 (3806 reads)
Didymo (Didymosphenia geminata) or rock snot is a non-native invasive microscopic algae that blooms in freshwater rivers and streams, with consistently cold water temperatures. Didymo forms a think brown mat of algae that can take over significant sections of stream.


Didymo can be brown, tan or whitish in color covering vast stretches with it's wet cotton or steel wool feeling algae. It is not green or slimy.

Rock snot can take it's toll when it begins it's heavy blooms and smothers the bottom stream bed. It can choke out much of the aquatic life and can greatly impact the food supplies for trout in the ecosystem.

All states in the region have been impacted by this invasion species on some of the better known waterways including the East and West branches of the Delaware River, the Batten Kill and recently Pine Creek in Pennsylvania. The Pine Creek waterway does not show signs of these blooms as of yet. In Maryland, biologists first confirmed didymo in Gunpowder Falls in Baltimore County in early 2008. In 2009, it turned up in the lower Savage River, Allegany County and in Big Hunting Creek in 2012.

Jason du Pont produced and excellent video Didymo: A Video Diary on the transformation of the Gunpowder once a didymo bloom begins and takes over a stream.





Didymo: A Video Diary from Jason du Pont on Vimeo.



The Pennsylvania Fish and Boat Commision offers these ideas to help control the spread of didymo:
"The PFBC recommends that anglers allow exposed equipment to completely dry before entering new waters. After equipment is dry to the touch, allow it to dry another 48 hours, the commission suggests. Thick and dense material, such as life jackets and felt-soled wading gear, will hold moisture longer, take longer to dry, and can be more difficult to clean.

Soaking equipment in hot water containing dishwashing detergent (two cups of detergent for every two and a half gallons of water) for 20 minutes or more also will kill didymo and some other aquatic invasive species.

Cleaning boats and equipment with hot water (maintained at 140 degrees Fahrenheit) by pressure washing or soaking is another effective method. If hot water is not available, a commercial hot water car wash also makes a good location to wash boats, motors and trailers. At the other end of the temperature range, freezing items solid for at least 24 hours is effective. If cleaning, drying or freezing is not practical, please restrict the equipment's use to a single waterway."

For more details on how to stop the spread of didymo visit the PFBC page here.

While Didymosphenia geminata does not pose a health risks to humans, but it certainly causes significant issues for the aquatic life in our streams. Our attentiveness to this issue is the one way we can help stop the spread of this growing problem.

top photo - Tim Daley, PA DEP
Published by Dave Kile [
dkile
] on 07/15/2013 (3093 reads)
Paflyfish member Pat "pcray1231" this past week fit in some fly fishing while over in Switzerland. His trip took him to Northern Switzerland. He shares a few thoughts and photos with the forum.

"The scenery was excellent, the fishing was excellent, it's exactly what I wanted and asked for from the guide. I coulda fished a big lake for pike, which was apparently hot. I coulda went to more lowland areas and fished bigger waters. But THAT is what would be a lot like PA. Northern Switzerland looks a lot like central PA with better food. I wanted to get down in the Alps and fish the highlands.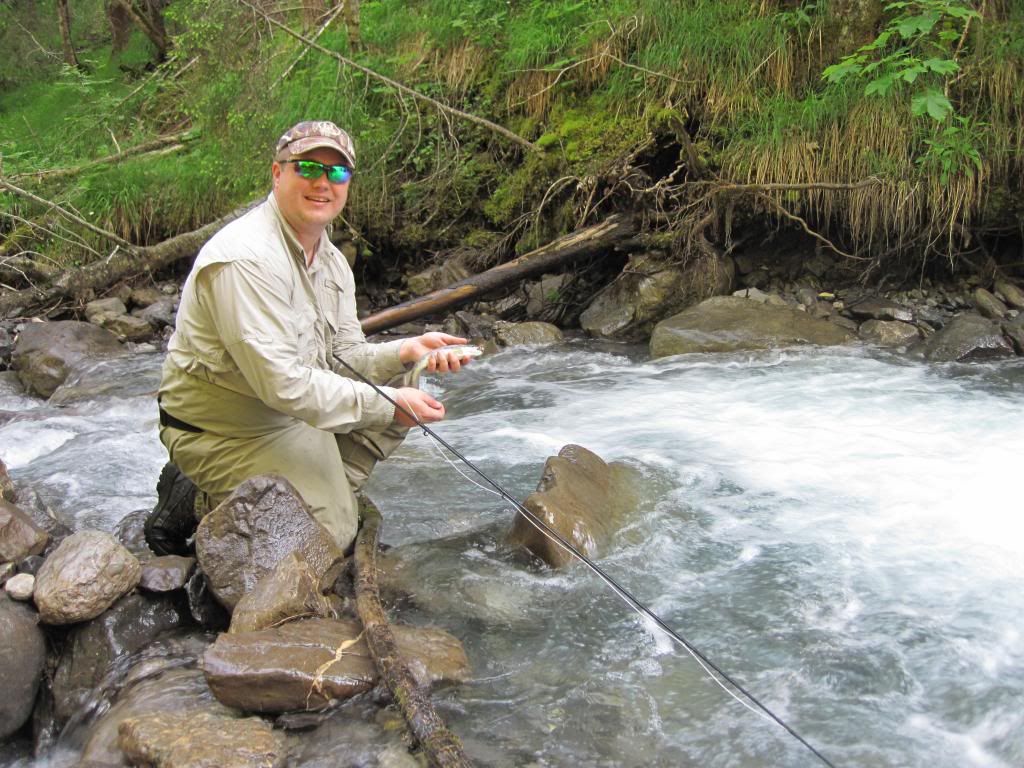 The stream was very different from PA. Faster. No pools. At all. In PA, you may have a fast riffle, but then there's a pool. There were no pools here, just a straight shoot of fast water, and it was all white. The fish were out of the current in the little corners and such, TIGHT to cover. It wasn't overly grown over, but required very accurate casts and good line handling. It wasn't easy fishing by any means. But it wouldn't have been fun if it were.

The woods were mostly pine, and while I knew what we were heading towards, most of the day you'd just get a peak here and there of the towering mountains. At the top, the forest backed away from the stream as the stream split up. So the view really started right as the fishing ended."

More thoughts and comments in the forum here and plenty of more photographs in his Photobucket.

Published by Dave Kile [
dkile
] on 07/12/2013 (1733 reads)
From the Pennsylvania Fish and Boat Commission (PFBC):
After confirming the presence of the invasive aquatic algae known as didymo, or "rock snot," in Pine Creek, Lycoming County, anglers and boaters are reminded that cleaning their gear is the easiest, most effective means of preventing its spread to other waters.
"Our biologists have not seen any evidence of a full bloom of didymo in the creek or nearby waterways," Department of Environmental Protection Acting Secretary Chris Abruzzo said. "This algae does not present a public health risk, but there is an ecological concern in terms of its future potential impact on the health of the waterway."
In late June, DEP biologists were conducting routine stream monitoring in Pine Creek upstream of Waterville in the vicinity of the Hamilton Bottom Canoe Access Area, a popular recreational destination. Laboratory analysis of a sample collected using an algal net detected the presence of didymo in the form of microscopic diatoms, a finding confirmed by the National Academy of Sciences.
The Pennsylvania Fish and Boat Commission (PFBC) continued to urge anglers and boaters to take steps to prevent the spread of the algae.
"We may not be able to eliminate didymo from an infected waterway, but there are easy steps we can take to slow its spread and to prevent it from spreading to other waters," said PFBC Executive Director John Arway.
"Didymo cells can easily be carried downstream and can be picked up by any items which come in contact with the infected water, including fishing tackle, waders, and boats and trailers. We urge anglers and boaters to 'Clean Your Gear!' before leaving a water body and entering another one."
The discovery of the algae in a popular recreational area potentially increases the risk of its movement to other waters in Pennsylvania.
"Flowing through the heart of Tiadaghton State Forest, Pine Creek and its parallel trail are increasingly popular with anglers, boaters, hikers and other Pennsylvania residents and visitors," said Department of Conservation and Natural Resources Acting Secretary Ellen Ferretti.
"The discovery of didymo has no immediate impact to the visitor experience on or along Pine Creek, but we ask all to remain vigilant in an effort to protect this invaluable waterway and other streams and rivers," Ferretti said.
Prior to detecting didymo in Pine Creek, the alga was found in the Youghiogheny River watershed in Fayette County, in the West Branch and main stem of the Delaware River, and in Dyberry Creek in Wayne County.
The PFBC recommends that anglers allow exposed equipment to completely dry before entering new waters. After equipment is dry to the touch, allow it to dry another 48 hours, the commission suggests. Thick and dense material, such as life jackets and felt-soled wading gear, will hold moisture longer, take longer to dry, and can be more difficult to clean.
Soaking equipment in hot water containing dishwashing detergent (two cups of detergent for every two and a half gallons of water) for 20 minutes or more also will kill didymo and some other aquatic invasive species.
Cleaning boats and equipment with hot water (maintained at 140 degrees Fahrenheit) by pressure washing or soaking is another effective method. If hot water is not available, a commercial hot water car wash also makes a good location to wash boats, motors and trailers. At the other end of the temperature range, freezing items solid for at least 24 hours is effective. If cleaning, drying or freezing is not practical, please restrict the equipment's use to a single waterway.
Didymo is not a public health hazard, but it can cause ecological damage by smothering other organisms which also live on the riverbed and support the food web for the resident fish community.
The algae, whose scientific name is "Didymosphenia geminata," has colloquially been called "rock snot" because of its appearance. When squeezed nearly dry, the algae, generally tan to beige in color, actually has the feel of moist cotton or wool.
For more details on how to stop the spread of didymo, visit
http://www.fishandboat.com/water/habitat/ans/didymo/faq_didymo.htm
.
For more information on how to clean your gear, visit
http://fishandboat.com/cleanyourgear.htm
.
Published by Dave Kile [
dkile
] on 07/07/2013 (5937 reads)
By Dean Myers
It is the middle of summer, the grass is tall along the creek and there is a hatch coming off. Well, it isn't your normal mayfly hatch that you need a 5 weight or less to fish and need a delicate presentation. It is time to fish the hopper hatches along the creek banks. Fishing with a grass hopper pattern can be a lot of fun. You don't have to be nice and gentle and you can use it to fish for a lot of different species. If your trout waters are too warm, by all means, hit some warm water streams for bass and pan fish with a hopper. A lot of different species enjoy the tasty meal of a hopper. The other thing hopper patterns are great for is being used in a hopper-dropper rig. By all means, drop off the hook bend a second fly.
Here is a pattern that I have tied for this year. A lot of people have been tying hopper patterns with foam. They are easy and they float well. Here is another option that I decided to try. The company that created the ThingAmaBobber has a new product that I really like. It is called the ThingAmaBody. It is an extremely easy product to use, looks great and floats forever. Another great thing about this product is you can make it whatever color you need it to be. It takes markers really well. So you can get really creative with how you want it to look.
When tying your hopper pattern you want to try and match the naturals. If you look at grass hoppers, it is important to see that the underside color is not always the same as the side and top color. When you are looking down on a grass hopper, remember that this is not how the fish will see it. They will be seeing the profile and color of the underside of it. Of the proportions, the head is usually about 1/3 of the body size.
Read detailed instructions
here
Published by Dave Kile [
dkile
] on 06/17/2013 (2110 reads)
Published by Dave Kile [
dkile
] on 06/03/2013 (1708 reads)
The 2013 Paflyfish Jamboree and Meetup was marked by some of the best weather and hatches we have had in years. The crew that made it up starting mid-week took advantage of the great conditions hitting many of the central Pennsylvania streams like Penns Creek, Spring Creek and the Little Juanita (Little J).


The good dry fly fishing conditions dominated the weekend with pretty typical mid-May hatches. The colder weather that lasted into March and April did push the hatches back in general. Sporadic March Browns and sulfurs were the common mayflies every day. The evening crush hit just after 8:00 pm with spinners, March Browns and sulfurs hitting hard with a quick evening flurry of activity the trout went nuts on. Everyone seemed to do pretty well, but you had to be quick to take advantage of the evening party.

Along with he good weather and fishing many PAFFers took advantage of catching up with friends from across the country.

I ended up starting out on Thursday at Penns Creek with Bikerfish, Wgmiller, Csoult. Fun evening with Csoult who crushed it with a big night and Wgmiller catching a chain pickerel. I headed back to Penns on Friday with Afish and Frederick for a repeat. Plenty of guys enjoying the weather most of the afternoon and evening waiting for the evening hatch. Saturday was a little overcast and headed over the Little J. Fishidiot, Maurice and I put an assault on the the Little J. Glad to catch up on the stream with so many guys.


Much of the non-fishing time was centered around the Seven Mountains Campground. As usual Friday evening was a good gathering of campers catching up from the evening fly fishing. Saturday morning was marked with some morning coffee before everyone went of for the day. Saturday night was our raffle and will be covered in our part 2 of the blog post. Phish_On organized the smorgasboard of food items, which was a big hit. I want to thank everyone for their participation and good food we all could enjoy.

The best part about the weekend for me was so many people who shared with me their appreciated of the site. Regular heard about people who were able learn about fly fishing and meet with new friends as a exult of the site. Want to thank all those guys who share with others and take out all the new anglers to the sport. My photography is the best way for me to share my view of the weekend and more my shots can be seen here on Facebook.