Category
Last published item
PaFlyFish.com

The Sulphurs are here!
Fly Fishing

Harmans's West Virginia Trip Report

Product Review

Product Review

Hardy Zephrus Ultralite Fly Rod Review

Fly Fishing Tips

Fly Fishing Boxes and the ShamWow Guy is No Help

Getting Started

Fly Fishing Getting Started - The Mayfly Stages ...
Interviews


Interviews

Coty Soult and the Open Air Project
Conservation

Macroinvertebrate Survey Through the Seasons
Fly Tying

2018 PAFF Eastern PA Fly Tying Jam: 17 Feb
Pennsylvania Fish and Boat Commission

PFBC Adds Six Waters to the Keystone Select ...
Published by Dave Kile [
dkile
] on 07/07/2013 (5827 reads)
By Dean Myers
It is the middle of summer, the grass is tall along the creek and there is a hatch coming off. Well, it isn't your normal mayfly hatch that you need a 5 weight or less to fish and need a delicate presentation. It is time to fish the hopper hatches along the creek banks. Fishing with a grass hopper pattern can be a lot of fun. You don't have to be nice and gentle and you can use it to fish for a lot of different species. If your trout waters are too warm, by all means, hit some warm water streams for bass and pan fish with a hopper. A lot of different species enjoy the tasty meal of a hopper. The other thing hopper patterns are great for is being used in a hopper-dropper rig. By all means, drop off the hook bend a second fly.
Here is a pattern that I have tied for this year. A lot of people have been tying hopper patterns with foam. They are easy and they float well. Here is another option that I decided to try. The company that created the ThingAmaBobber has a new product that I really like. It is called the ThingAmaBody. It is an extremely easy product to use, looks great and floats forever. Another great thing about this product is you can make it whatever color you need it to be. It takes markers really well. So you can get really creative with how you want it to look.
When tying your hopper pattern you want to try and match the naturals. If you look at grass hoppers, it is important to see that the underside color is not always the same as the side and top color. When you are looking down on a grass hopper, remember that this is not how the fish will see it. They will be seeing the profile and color of the underside of it. Of the proportions, the head is usually about 1/3 of the body size.
Read detailed instructions
here
Published by Dave Kile [
dkile
] on 06/17/2013 (2073 reads)
Published by Dave Kile [
dkile
] on 06/03/2013 (1668 reads)
The 2013 Paflyfish Jamboree and Meetup was marked by some of the best weather and hatches we have had in years. The crew that made it up starting mid-week took advantage of the great conditions hitting many of the central Pennsylvania streams like Penns Creek, Spring Creek and the Little Juanita (Little J).


The good dry fly fishing conditions dominated the weekend with pretty typical mid-May hatches. The colder weather that lasted into March and April did push the hatches back in general. Sporadic March Browns and sulfurs were the common mayflies every day. The evening crush hit just after 8:00 pm with spinners, March Browns and sulfurs hitting hard with a quick evening flurry of activity the trout went nuts on. Everyone seemed to do pretty well, but you had to be quick to take advantage of the evening party.

Along with he good weather and fishing many PAFFers took advantage of catching up with friends from across the country.

I ended up starting out on Thursday at Penns Creek with Bikerfish, Wgmiller, Csoult. Fun evening with Csoult who crushed it with a big night and Wgmiller catching a chain pickerel. I headed back to Penns on Friday with Afish and Frederick for a repeat. Plenty of guys enjoying the weather most of the afternoon and evening waiting for the evening hatch. Saturday was a little overcast and headed over the Little J. Fishidiot, Maurice and I put an assault on the the Little J. Glad to catch up on the stream with so many guys.


Much of the non-fishing time was centered around the Seven Mountains Campground. As usual Friday evening was a good gathering of campers catching up from the evening fly fishing. Saturday morning was marked with some morning coffee before everyone went of for the day. Saturday night was our raffle and will be covered in our part 2 of the blog post. Phish_On organized the smorgasboard of food items, which was a big hit. I want to thank everyone for their participation and good food we all could enjoy.

The best part about the weekend for me was so many people who shared with me their appreciated of the site. Regular heard about people who were able learn about fly fishing and meet with new friends as a exult of the site. Want to thank all those guys who share with others and take out all the new anglers to the sport. My photography is the best way for me to share my view of the weekend and more my shots can be seen here on Facebook.
Published by Dave Kile [
dkile
] on 05/13/2013 (6582 reads)




Over the past 18 years one of the best things to come out of the site are meetups and the annual Paflyfish Spring Jamboree. The Spring Jamboree is our annual get together to fish, camp, tie flies and discuss the one that got away. Over the years we have found an accommodating campground in Central Pennsylvania for us all to meet and camp for the weekend. I wouldn't even call it an exclusive Pennsylvania event with folks coming from Ohio, New York, New Jersey, Maryland and Florida. Some photo's over the years are here.

We have a lot of fun fishing over some of Pennsylvania's finest streams. If the Green Drakes often hatching and many head over to Penns Creek. Other streams the Little J, Spruce, Fishing and Spring Creek all offer some of the best in class fishing in the region. In some years it has rained, well every year, and there are many alternatives to the bigger named streams as well.

This year is no exception and members on the forum are making plans to meet the weekend of May 17-19, 2013 at Seven Mountains Campground in Spring Mills, Pennsylvania. Please contact them if you would like to stay there that weekend. They have a limited number of cabins and campsites.

We are working on more details but often we will have guest speakers, casting lessons, fly tying lessons, gear swaps and cool gear to check out.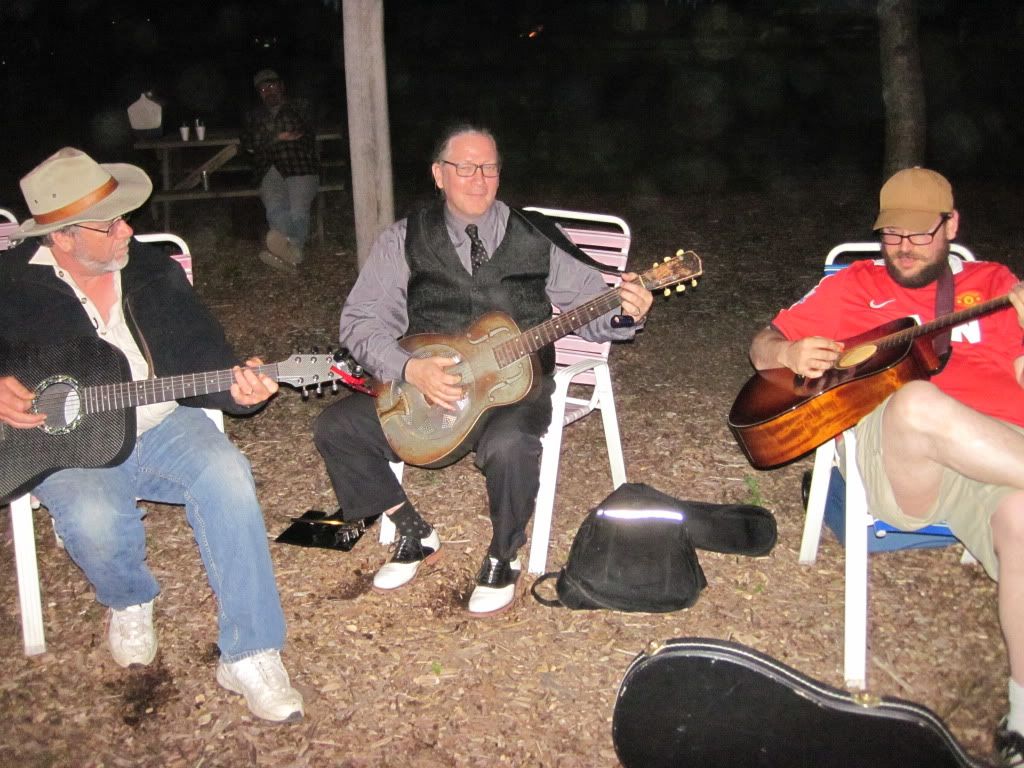 Friday, May 17th
Jam attendees often start arriving throughout the day if they haven't arrived earlier in the week. We don't have use of the pavilion until 3:00 PM on Friday. Stop by after 3:00PM to help or meet others trying to get back out on the water.

Saturday, May 18th
Coffee 6-9am available at the pavilion

Fire Ring at the pavilion around dark with Live Entertainment! - The PAFF Band gets going about 10:00 pm out some great tunes for all to enjoy. Hoping that Shaky and the rest of the band can get back together for more tour! If you'd like to join the band or just put in a solo performance, just bring your instrument and/or voice and let 'er rip. Quiet hours may be a factor. If we get all the sites booked for Seven Mountains, perhaps they'll extend them for us.

Sunday, May 19th
Coffee 6-9am available at the pavilion.

Streams like Penns Creek, Spring Creek, Spruce Creek, Little Juanita and Fishing Creek are all within an hour of the campground.










In addition to the expected fly fishing opportunities authors, fly shop owners, and other experts are usually in attendance and provide a lot of great knowledge at the evening gathers. Follow the latest details in the forum here.
Published by Dave Kile [
dkile
] on 05/07/2013 (5059 reads)
So you probably have already heard about the onslaught of cicadas coming our way on the nightly news and just about every other media source. Cicada's are just weeks away from inundating much of the east coast and more annoying news coverage to follow. Mainstream media will pull out the playbook and ultimately take it to a stupid level like encouraging some Honey Boo Boo wannabes into eating some of these Cicadoidea [latin]. By the end of the coverage, some clever reporter will talk about cicada soup or grilling them or better yet some dumb sauce to put on them.

Sorry I digress and back to trout eating cicada.


So will this be a big deal for fly fishing? For some of parts of the region it may be. It has been 17 years since the Brood II has emerged. Generally they will be covering North Carolina thru New York. But heavily in Eastern Pennsylvania* and New Jersey.

Generally, we will not see much activity until the ground temperature reaches 64 degrees. Most records seem to indicate that this late May to early June.

"Thermal soil temperature is one of the things that trigger their emergence, along with a gentle to moderate rainfall," Greg Hoover, Senior Extension Associate Ornamental Entomologist at The Pennsylvania State University, said.

These insects emerge, mate and die all within about two to three weeks. They have no mouths and do real no damage during this final stage. Remembering former cicada brood fests, it is really just a big pain in the ass having millions of these bugs all over the place. They get into your house, car and just about anything you leave open.

For fly fishing anglers what does this mean? Well these things are insects high in protein and will likely fall in the water. No fear trout and other fish will be eating them.

Will cicadas be the only thing in their diet, probably not. Being prepared with a few tied up cicadas is probably a pretty good idea. As Tom (Afishnado) posted, "I'd have to say the cicada hatch in Central PA a few years ago was one of the best kept secrets of all time." So no doubt this year cicada fly fishing for trout, carp and bass will be important.


Like any fish food it will always be shape, size and coloring that will be important for imitations. This things are pretty darn big at about 1 1/2 inches long. Dwight Landis (Troutbert) suggests starting with size 6 hook. Generally they are black bodied with orange accents in this Brood II. Deer hair ties similar to what you might use for bass flies are good. But as Ed Maurer (Heritage Angler) offers, "All my cicada patterns are now made with a foam body. Foam is your friend - embrace it." There is a lot of conversation on options, but I would go with Dave Weaver's (Fishidiot) tie he shares here. But it is anyone's bet!

I would be targeting bigger trout later in the day. Kind of normal trout feeding patterns. But this is a bit of crap shoot and older reports share tales of carp going crazy for these things too. If your next question is how do you cast and present this beast? Well firstly don't slam the darn thing into the pool you want to target. These things are pretty big and if done improperly you will likely scare out all the fish, herons and beavers for a 1/4 of mile, so go easy cowboy and have fun.

This is going to be interesting in a few weeks and love to hear if it is a bust or a boom?
* Additional notes on Pennsylvania cicada locations: Berks, Bucks, Carbon, Chester, Dauphin, Delaware, Lancaster, Lebanon, Lehigh, Luzerne, Monroe, Montgomery, Northampton, Philadelphia, Pike, Potter, Schuylkill, and Wyoming Counties
Published by Dave Kile [
dkile
] on 05/04/2013 (2713 reads)
Well I just received an email from Shane on the latest from the Harman Invitational. Phil ended the day on Friday having caught the biggest trout of the day. This put them into a good spot to start the day on Saturday. The day ended with Shane sharing the following line: "We brought it home!"
Here is Shane and Phil during their interview with Curtis Fleming from the Outdoor Channel
Congratulation to Shane "SBecker" Becker and Phil "PhilC" Chadbourn for their efforts this weekend and representing Paflyfish. More details when the guys get back home and to some cell coverage!!
Published by Dave Kile [
dkile
] on 04/30/2013 (2836 reads)
Todd Harman, Owner of Harman's Luxury Log Cabins, approached me this past winter about making sure Paflyfish was represented at this years Harman's Invitational. The Harman's Invitational is a fly fishing competition with two-man teams hitting the North Fork of the South Branch River in West Virginia the weekend of May 3-5, 2013. Typically there are about seven to nine teams represented from the East Coast.

Plenty of big bows and avid anglers in a great setting!





Harman's Invitational 2012 on Fly Rod Chronicles




I received quite a bit of interest about this opportunity from several folks on the site. Not to miss out of the fun, Paflyfish rallied Shane "SBecker" Becker and Phil "PhilC" Chadbourn to represent us in West Virginia for the weekend. Shane and Phil will be heading down Thursday to get settled in and prepare for the tournament.

"I think it will be an amazing opportunity to represent the members of the site," shared Shane. "Hoping we can do well for Paflyfish while we are at Harman's this weekend."

Maurice helped make sure we sent the guys off with some new Paflyfish hats and shirts. I just asked them that they have fun and do their best.

We look forward to hearing about the weekend. The event will be covered by Fly Rod Chronicles with Curtis Fleming from the Outdoor Channel and aired at a future date.

Harman's Luxury Log Cabins is a sponsor of Paflyfish. The North Fork does not support naturally reproducing trout and is stocked by Harman's along 1 3/4 miles of water providing anglers with the opportunity to fish for rainbows, browns, brookies, tiger and golden trout. Everyone who has stayed has had rave reviews of their trip to Harman's.

Fly Rod Chronicles with Curtis Fleming airs weekly on the Outdoor Channel. Tuesdays at 11:30 a.m., Fridays at 1:00 p.m., & 6:30 p.m. EST every Saturday.
Published by David Weaver [
Fishidiot
] on 04/25/2013 (2506 reads)
By Dave Weaver

Earlier this month, the Pennsylvania Fly Fishing Museum celebrated its grand opening and many from our PAFF community were in attendance. This museum, as many of you know, has been an accumulating collection of our state's legacy anglers' equipment, papers, and flies etc for many years. Some of the collection has been on temporary loan to various communities around the state including here in Gettysburg. However, some of the best interpretive displays that many of you no doubt are familiar with have been displayed in a small museum located in a hallway in Fairfield Hall on the grounds of the Allenberry Playhouse. These displays are still there although the topic material has been rotated.

In recent years, as the museum's collection has grown, there has been an effort to secure a larger space with the capacity for better displays showing the full fly tying desks or rod building shops of men like Vince Marinaro or George Harvey. These displays are similar to the ones that can be seen celebrating the Darbies or Wulffs in the Catskill Museum of Fly Fishing. In addition to Marinaro and Harvey, who have larger "rooms," there are display booths for Joe Humphys, Jim Bashline, Ed Koch, Ed Shenk and several others. Speaking just for myself, when I gaze at the gear collections of so many great and innovative fly fishermen, I'm often struck at how basic and well worn their equipment was. These guys don't often look as if they were kitted out with the latest high end stuff from the latest trendy catalog. In any event, if you'd like to check out the Pennsylvania Fly Fishing Museum's website where you can see more pics of the museum, please hit: http://www.paflyfishing.org/.
You can also join or support the museum association.

It's a wonderful museum - kudos to the volunteers from the museum association who have worked so hard for so long to bring this new museum wing to fruition for us to enjoy. If you're joining me for the 8 June Gettysburg/Cumberland Valley mini jam, we'll be making a brief detour to see this museum. Also, the following weekend is the museum's annual Heritage Day on June 15th. Hope to see you there.


The main room with exhibitors
(Photo Courtesy Skybay)
"Skybay" and "Fishidiot"
(Photo courtesy Skybay)
Mark Susinno at work.
I consider Mark to be the best painter of game fish in the world. Check him out at:
http://www.natureartists.com/mark_susinno.asp
(Photo by Fishidiot)
George Harvey's display booth
(Photo by Fishidiot)

Among the top notch tiers present for the event were our own
Paffers "Wetfly01" and "Frequent Tier" (Dave and Mike).

Check out Dave's flies and methods at:
http://www.wetflywaterguides.com/


Published by Maurice Chioda [
Maurice
] on 04/23/2013 (5219 reads)
Ahhhhh the evolution of a vest fisherman.
by Maurice


Stage One: get vest fill with unmentionables over time until its so heavy your back hurts at the end of a fishing day.

Stage Two: Decide to get a pack...smaller, holds less, straps to back rather than hanging on shoulders. no more back pain.

Stage Three: realize pack is too small and holds too little so get a bigger pack, still just a front pack but larger. You become front heavy and tip over easy......

Stage Four: Find a BETTER pack that has a backpack on it. Now you can carry a raincoat, water bottles, TP, everything you would ever need until you realize now you are carrying more than you did with a vest and your back hurts again. But less than if it were all in a vest.

Recommendation: The beauty of Chest packs/rucksacks is that they have a deep yoke around your neck, (don't pull on your neck like a vest) and most importantly they strap snuggly to your pectoral area (chest) to take the weight off of your shoulders where a vest focuses it on your shoulders.
Published by Dave Kile [
dkile
] on 04/08/2013 (6231 reads)
As the longer April days warm the waters in the region this provides incentive for the caddisflies (Order Trichoptera) to begin their annual cycle. Not always the preferred insect of the fly anglers, but without a doubt the caddisfly is found in most all the waters in the region.
It is the one insect that has succeeded and thrived in streams that have been decimated with pollution. Streams like the Tulpehocken, Oil Creek and Casselman are are just a few streams known for their abundant caddis fly populations in our region. For many of these streams the caddisfly is so prolific that mayflies are an often after thought for anglers.
The caddisflies behavior is a little less predictable and is certainly one of the reasons it is not as popular for many anglers. Many mayflies can be timed to within a few days and hours. The Green Drakes on Penn's Creek are revered by anglers the same way the "Swallows" of Capistrano are anticipated at the Mission San Juan Capistrano. Caddis flies not so much.
That is not to say great hatches of caddisflies are not enjoyed by anglers and trout, as there can be wonderful evenings and days with them covering a stream. Just as often there can be sporadic emergers happening with without much fanfare.
There are over 1200 species of caddis flies in the country. They range in size and colors covering the gambit of black, green, tan, cream and white bodies. The more popular Grannom hatch do arrive across much of the region at the end of April and are much anticipated by anglers and trout alike.
To get some understanding of their cycle it is as easy to do as by simply lifting a rock the next time out on the water.
Many types of caddis larvae can be found at the bottom of the stream in self-made protected cases or roaming along the bottoms of streams. Some these species create protective cocoons made of small stones or sticks held together with silk like threads. This thread is also used to secure the larvae to the larger rocks or stream bed where they live.
As the caddisflies mature they reach the pupa stage were they hold-up inside their cases and prepare to emerge out as adults above the water. This transformation from water to wing is the most dangerous for all insects. The caddisfly rise from their cases often with the help of a small gas bubble pulling them towards the surface. Once there they emerge with their uniquely folded tent-style of wings they take flight.
The caddis return to lay their eggs either on the surface or by diving to the bottom depending on the species. Like when they emerge, this is the time when they are most susceptible to hungry trout. The cycle of life then returns as these eggs transform into the larvae again.
Like mayflies, caddis flies begin in ernest in April and are big part of many streams. Continued sporadic hatches can be found through the late Fall.
For more on this popular order of insects check out Gary LaFontaine's book
Caddisflies
.