Published by Dave Kile [
dkile
] on 06/03/2013 (1679 reads)
The 2013 Paflyfish Jamboree and Meetup was marked by some of the best weather and hatches we have had in years. The crew that made it up starting mid-week took advantage of the great conditions hitting many of the central Pennsylvania streams like Penns Creek, Spring Creek and the Little Juanita (Little J).


The good dry fly fishing conditions dominated the weekend with pretty typical mid-May hatches. The colder weather that lasted into March and April did push the hatches back in general. Sporadic March Browns and sulfurs were the common mayflies every day. The evening crush hit just after 8:00 pm with spinners, March Browns and sulfurs hitting hard with a quick evening flurry of activity the trout went nuts on. Everyone seemed to do pretty well, but you had to be quick to take advantage of the evening party.

Along with he good weather and fishing many PAFFers took advantage of catching up with friends from across the country.

I ended up starting out on Thursday at Penns Creek with Bikerfish, Wgmiller, Csoult. Fun evening with Csoult who crushed it with a big night and Wgmiller catching a chain pickerel. I headed back to Penns on Friday with Afish and Frederick for a repeat. Plenty of guys enjoying the weather most of the afternoon and evening waiting for the evening hatch. Saturday was a little overcast and headed over the Little J. Fishidiot, Maurice and I put an assault on the the Little J. Glad to catch up on the stream with so many guys.


Much of the non-fishing time was centered around the Seven Mountains Campground. As usual Friday evening was a good gathering of campers catching up from the evening fly fishing. Saturday morning was marked with some morning coffee before everyone went of for the day. Saturday night was our raffle and will be covered in our part 2 of the blog post. Phish_On organized the smorgasboard of food items, which was a big hit. I want to thank everyone for their participation and good food we all could enjoy.

The best part about the weekend for me was so many people who shared with me their appreciated of the site. Regular heard about people who were able learn about fly fishing and meet with new friends as a exult of the site. Want to thank all those guys who share with others and take out all the new anglers to the sport. My photography is the best way for me to share my view of the weekend and more my shots can be seen here on Facebook.
Published by Dave Kile [
dkile
] on 05/13/2013 (6618 reads)




Over the past 18 years one of the best things to come out of the site are meetups and the annual Paflyfish Spring Jamboree. The Spring Jamboree is our annual get together to fish, camp, tie flies and discuss the one that got away. Over the years we have found an accommodating campground in Central Pennsylvania for us all to meet and camp for the weekend. I wouldn't even call it an exclusive Pennsylvania event with folks coming from Ohio, New York, New Jersey, Maryland and Florida. Some photo's over the years are here.

We have a lot of fun fishing over some of Pennsylvania's finest streams. If the Green Drakes often hatching and many head over to Penns Creek. Other streams the Little J, Spruce, Fishing and Spring Creek all offer some of the best in class fishing in the region. In some years it has rained, well every year, and there are many alternatives to the bigger named streams as well.

This year is no exception and members on the forum are making plans to meet the weekend of May 17-19, 2013 at Seven Mountains Campground in Spring Mills, Pennsylvania. Please contact them if you would like to stay there that weekend. They have a limited number of cabins and campsites.

We are working on more details but often we will have guest speakers, casting lessons, fly tying lessons, gear swaps and cool gear to check out.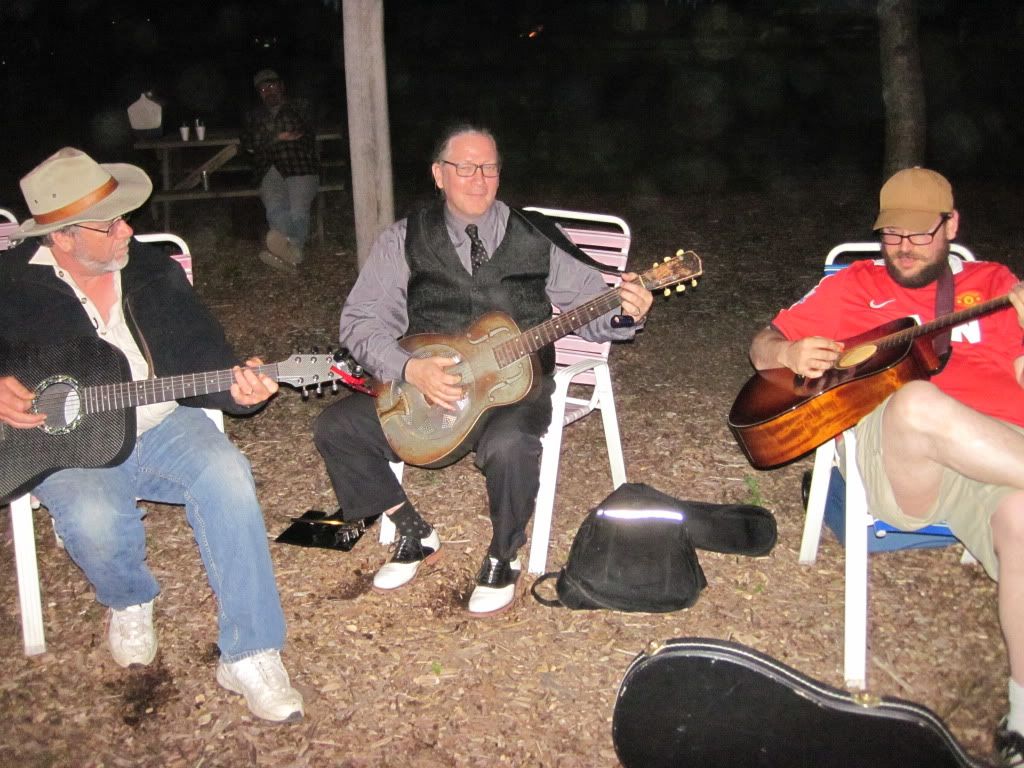 Friday, May 17th
Jam attendees often start arriving throughout the day if they haven't arrived earlier in the week. We don't have use of the pavilion until 3:00 PM on Friday. Stop by after 3:00PM to help or meet others trying to get back out on the water.

Saturday, May 18th
Coffee 6-9am available at the pavilion

Fire Ring at the pavilion around dark with Live Entertainment! - The PAFF Band gets going about 10:00 pm out some great tunes for all to enjoy. Hoping that Shaky and the rest of the band can get back together for more tour! If you'd like to join the band or just put in a solo performance, just bring your instrument and/or voice and let 'er rip. Quiet hours may be a factor. If we get all the sites booked for Seven Mountains, perhaps they'll extend them for us.

Sunday, May 19th
Coffee 6-9am available at the pavilion.

Streams like Penns Creek, Spring Creek, Spruce Creek, Little Juanita and Fishing Creek are all within an hour of the campground.










In addition to the expected fly fishing opportunities authors, fly shop owners, and other experts are usually in attendance and provide a lot of great knowledge at the evening gathers. Follow the latest details in the forum here.
Published by Dave Kile [
dkile
] on 05/04/2013 (2729 reads)
Well I just received an email from Shane on the latest from the Harman Invitational. Phil ended the day on Friday having caught the biggest trout of the day. This put them into a good spot to start the day on Saturday. The day ended with Shane sharing the following line: "We brought it home!"
Here is Shane and Phil during their interview with Curtis Fleming from the Outdoor Channel
Congratulation to Shane "SBecker" Becker and Phil "PhilC" Chadbourn for their efforts this weekend and representing Paflyfish. More details when the guys get back home and to some cell coverage!!
Published by David Weaver [
Fishidiot
] on 04/25/2013 (2524 reads)
By Dave Weaver

Earlier this month, the Pennsylvania Fly Fishing Museum celebrated its grand opening and many from our PAFF community were in attendance. This museum, as many of you know, has been an accumulating collection of our state's legacy anglers' equipment, papers, and flies etc for many years. Some of the collection has been on temporary loan to various communities around the state including here in Gettysburg. However, some of the best interpretive displays that many of you no doubt are familiar with have been displayed in a small museum located in a hallway in Fairfield Hall on the grounds of the Allenberry Playhouse. These displays are still there although the topic material has been rotated.

In recent years, as the museum's collection has grown, there has been an effort to secure a larger space with the capacity for better displays showing the full fly tying desks or rod building shops of men like Vince Marinaro or George Harvey. These displays are similar to the ones that can be seen celebrating the Darbies or Wulffs in the Catskill Museum of Fly Fishing. In addition to Marinaro and Harvey, who have larger "rooms," there are display booths for Joe Humphys, Jim Bashline, Ed Koch, Ed Shenk and several others. Speaking just for myself, when I gaze at the gear collections of so many great and innovative fly fishermen, I'm often struck at how basic and well worn their equipment was. These guys don't often look as if they were kitted out with the latest high end stuff from the latest trendy catalog. In any event, if you'd like to check out the Pennsylvania Fly Fishing Museum's website where you can see more pics of the museum, please hit: http://www.paflyfishing.org/.
You can also join or support the museum association.

It's a wonderful museum - kudos to the volunteers from the museum association who have worked so hard for so long to bring this new museum wing to fruition for us to enjoy. If you're joining me for the 8 June Gettysburg/Cumberland Valley mini jam, we'll be making a brief detour to see this museum. Also, the following weekend is the museum's annual Heritage Day on June 15th. Hope to see you there.


The main room with exhibitors
(Photo Courtesy Skybay)
"Skybay" and "Fishidiot"
(Photo courtesy Skybay)
Mark Susinno at work.
I consider Mark to be the best painter of game fish in the world. Check him out at:
http://www.natureartists.com/mark_susinno.asp
(Photo by Fishidiot)
George Harvey's display booth
(Photo by Fishidiot)

Among the top notch tiers present for the event were our own
Paffers "Wetfly01" and "Frequent Tier" (Dave and Mike).

Check out Dave's flies and methods at:
http://www.wetflywaterguides.com/


Published by Dave Kile [
dkile
] on 04/04/2013 (2442 reads)
It is always a lot of fun when members share their images from the stream. I love photography and try to capture those moments on the stream when I am fly fishing. So this winter we held a photo contest to add to the fun this winter.

Allen Fly Fishing sponsored our event this season and offered up some of their fine rods for our winners. I want to thank them for their support of the contest. Anglers can find out more about the complete line of rods, reels, hooks and lines that Allen Fly Fishing offers here.

So our judges enjoyed the many entries by members with the contest. Our first place goes to Dshee1 with Steelhead Beauty and wins the ATS 9'0" 5wt.



Second place to Tomitrout with Anticipation and wins the ATS 7'6" 3wt.



Finally and honorable mention by Studiomule for Snowman and is awarded the Compass 9'0" 5wt.



I want to thank all the participants who dared the cold and entered the contest. Thanks to our moderators/judges for their voting and of course Allen Fly Fishing for providing the rods to our three winners.

Winners please PM with your contact info.

No specific plans yet, but hoping to announce another contest this year. So keep those fly fishing images coming this spring and summer!


Published by Dave Kile [
dkile
] on 03/25/2013 (1429 reads)
Heritage Angler, Pcray(in the photo) and Foxgap239 put together the planning for another Newbie Jam on March 16. One of the several meet ups every through out the year that members on the site put together to fish or provide instruction.

The focus of the jam was the coaching and training to those new to fly fishing. The Newbie Jam was held at the Wildlands Conservancy's Pool Wildlife Sanctuary in Emmaus, PA on March 16.

Several members here from Paflyfish helped Heritage Angler, Pcray and Foxgap239 to then deliver hands-on training about many different topics including:
• Gear/Setup - "Head to Toe"
• Knot Instruction (hands on)
• Leader Setups
• Entomology (What trout eat, and their imitations)
• Fly Tying For Beginners
• Fly Casting Instruction
• Where to Fish – Types of Streams, and How to Find Them.
• Wild Brook Trout Fishing – Gear, Techniques, Navigation

Also in attendance was site sponsor Michael from Gogal Publishing sharing information about fishing guides.

I very popular event and one that speak volumes to the Paflyfish Community. Heritage Angler summed it up pretty well , "Today reminded me what good friends I've met through PAFF. I hope everyone makes the kind of friends that I've met here. Good fishing buddies are the best kind of friends, and I've been blessed with some truly great ones."

A special thanks to Heritage Angler, Pcray, Foxgap239 and all those who helped put this together.
Published by Dave Kile [
dkile
] on 03/13/2013 (1813 reads)


I met Bill Kosmer a few years ago on a trip to the Fly Fishing Show in Somerset. I really enjoyed his knowledge and observations with the many conservations issue that our waterways face in the region. His photography also caught my eye. When I heard about Bill heading on a trip to Chile I was sure he would be coming back with some good stories and some fantastic images as well.

With his DSLR cameras and two Contour video cameras he and his friend, Herb Baker, captured their trip into South America. I really enjoy seeing fly fishing from around the world and lucky when we can get a first person point of view from someone in our region share their story. Give yourself a little time to kick back and enjoy Bill's journey fly fishing in Chile from February 2013.

About Bill -
Bill's passion for fly fishing and photography was set in motion at an early age by his father. He spent most of his childhood days fishing the mountain freestone streams of his home waters of North Central Pennsylvania. Since those early days, the pursuit of wild trout has become a lifestyle for Bill. Over the last 20 years, camera and fly rod in hand, he has traveled extensively to fuel his passion for pursuing wild trout in remote locations from southern Chile to Montana to the backwoods of PA. His photos and writings have also appeared in the Drake and several newsletters and catalogs. He has given numerous presentations on his adventures and is an active member with the Doc Fritchey Chapter of Trout Unlimited in Harrisburg, PA, giving back to the resources he values so much. Bill is also an accomplished fly-tier and licensed guide. You can follow Bill further on his blog Trout Tails.
Published by Dave Kile [
dkile
] on 03/08/2013 (2128 reads)
When I grow up I want to be Hank Patterson. It's Friday afternoon and we all need a little fun to start the weekend! Good news Hank will be at the Simms Ice Out too.
http://youtu.be/llba13w0Xb8
Published by Dave Kile [
dkile
] on 03/04/2013 (4499 reads)
We have some fantastic anglers on this site and many who have shared some wonderful images from their fly fishing experiences. It doesn't matter if photography is your passion, your hobby, or just an occasional pastime, we invite you to participate in the Paflyfish photo contest, recognizing the beauty and character of fly fishing in the Pennsylvania fly fishing region. I thought it would be fun to capture those images this winter.
Winning photos will be displayed on the Paflyfish website and we have prizes from our sponsor
Allen Fly Fishing
. Allen Fly Fishing is offer prizes for 1st, 2nd and 3rd place. Details of those prizes will be shared shortly, but you can be sure it will involve fly rods and reels!
Both amateur and professional photographers are welcome to participate. Photos must be submitted in digital format; see contest rules for details.
Each participant may submit one photograph in total. All images must be digitally uploaded. You can upload your images at the photo section. Select the "
2013 Winter Photo Contest
" Category when submitting your photograph.
Start Date: December 21, 2012 at 12:00 AM, EST End Date: March 19, 2013 at 12:00 PM EST. We're not responsible for errors that may terminate the contest early so enter soon.
Sorry for the length and this is intended to be fun, but most all questions can be answered by reading the rules and directions below. Please read!
No payment necessary to enter or win
Photo Eligibility
To enter, you must be at least 18 years of age and a U.S. citizen. PaFlyFish.com employees, moderators and their immediate family members are not eligible. All photos must be taken in Pennsylvania region, which includes: New York, New Jersey, Maryland and Ohio during the timeframe of the contest. The photo subject must be relevant to fly fishing in the region.
How to Enter
Digital photos may be submitted online only. You must register on the PalyFish.com website. Previously uploaded photographs can be resubmitted. You can upload your images in the photo section. Select the "
2013 Winter Photo Contest
" Category when submitting your photograph. Entries must be received by the deadline (see above). Digital images will not be returned. No mail or postal entries accepted.
Image Modifications:
Minor digital enhancement is permitted, but images that have been significantly modified or appear unnatural will be disqualified.
Not Permitted:
* No borders or frames may be added to images.
* No watermarks, signatures, or copyright notices may be added to images. All winning images will be displayed with the photographer's name.
Photo FormatsEntries must be digital JPEG images and images should be 1024 pixels on the longest side at 72PPI
. Please read the specific guidelines for submitting prints and digital images. Winning entries may be requested to provide larger available images.
Judging
Entries will be judged on the basis of creativity, photographic quality, and effectiveness in conveying the beauty and/or unique character of
Pennsylvania
Winter Fly Fishing.
Winners
Judges will select a first, second and third place winning photos. Winners will be announced on the website and notified approximately 1-2 weeks after the contest deadline by website private messaging and email using the information provided in your PaFlyFish website registration. Winning photographs, along with the photographer's name, email address (optional) and information about the photo, will be displayed on the PaFlyFish.com website.
Photographer/Copyright
Entries must be submitted by the original photographer. Do not submit a photo taken by someone other than yourself. You must be the sole owner of the copyright of any image submitted. Your submission of the photo and entry form is your guarantee that you are the author and copyright holder of the photo.
Photo Subject Restrictions
We cannot accept photos that contain any nudity and follow site guidelines. PaFlyFish.com retains sole discretion as to what constitutes inappropriate content. Winners will be selected based on several criteria including, originality, theme, technical & artistic details, story, and visual impact. Notified winning photos containing recognizable people must be able to provide a signed model release to be announced as a winner.
Ownership/Use Rights
Photographers retain the copyright to their photographs. By entering the contest, photographers agree to have their submitted photograph displayed on the PaFlyFish.com website without any fee or other form of compensation, and agree that PaFlyFish.com may display winning photos in a "past winners" photo gallery, and may make and retain copies of the photograph for archival purposes. Posted photos will be subject to the PaFlyFish.com website photo use policy. Photos will be credited to the photographer named in the entry form. Entries (including non-winning entries) may be selected for display or use in PaFlyFish.com web pages. Your entry to the contest constitutes your agreement to allow your photographs — and your name, city and state of residence — to be published as selected award winners in all materials related to the contest and to be published or used on websites owned or operated by Kile Media Group and PaFlyFish.com; and used for promotions of the website including, but not limited to, exhibitions, a photo calendar, a compilation book or electronic collection of photographs, online photo features, and web pages providing information, updates, rules and photography and fly fishing tips. Entrants retain Copyright ownership and all other rights to future use of their photographs. PaFlyFish.com shall have the right to verify, in their sole judgment, winner eligibility.
Published by Dave Kile [
dkile
] on 02/25/2013 (2112 reads)
The Paflyfish Moderators decided to take a day off from the forum and left the site in the good hands of Jack. We made our way to south central Pennsylvania to one of the more popular limestone streams.




Actually a reasonable winter day with temps in the upper 30's, water temps in the low 50's and a mix of sun and clouds. We had hoped for some BWO's, but got snow flurries by the end of the day instead.



The fishing was pretty good as Dave landed real nice 20" rainbow early on. Tom proceeded to quietly catch fish for the rest of the day. Maurice and I tried our best to keep up.



Dave took a quick stab with his net into the elodea and showed just how limestone streams sustain a rich abundant aquatic life through out the year with cress bugs, sculpin and shrimp.

Always great to catch up with them on the stream. The site is very fortunate to have great guys like Maurice, Dave and Tom helping support site in so many ways. Their dedication to the site and fly fishing really make a difference here at Paflyfish.

When ever we get together and start catching up I am quickly reminded just what a wealth of fly fishing knowledge these guys offer to the site. I always learn so much when I hang out with them. Thanks so much for your help!

Some more photographs on Facebook.

Sorry Jack could not join us and hope he can make it with us next time.