Published by Dave Kile [
dkile
] on 07/15/2013 (3069 reads)
Paflyfish member Pat "pcray1231" this past week fit in some fly fishing while over in Switzerland. His trip took him to Northern Switzerland. He shares a few thoughts and photos with the forum.

"The scenery was excellent, the fishing was excellent, it's exactly what I wanted and asked for from the guide. I coulda fished a big lake for pike, which was apparently hot. I coulda went to more lowland areas and fished bigger waters. But THAT is what would be a lot like PA. Northern Switzerland looks a lot like central PA with better food. I wanted to get down in the Alps and fish the highlands.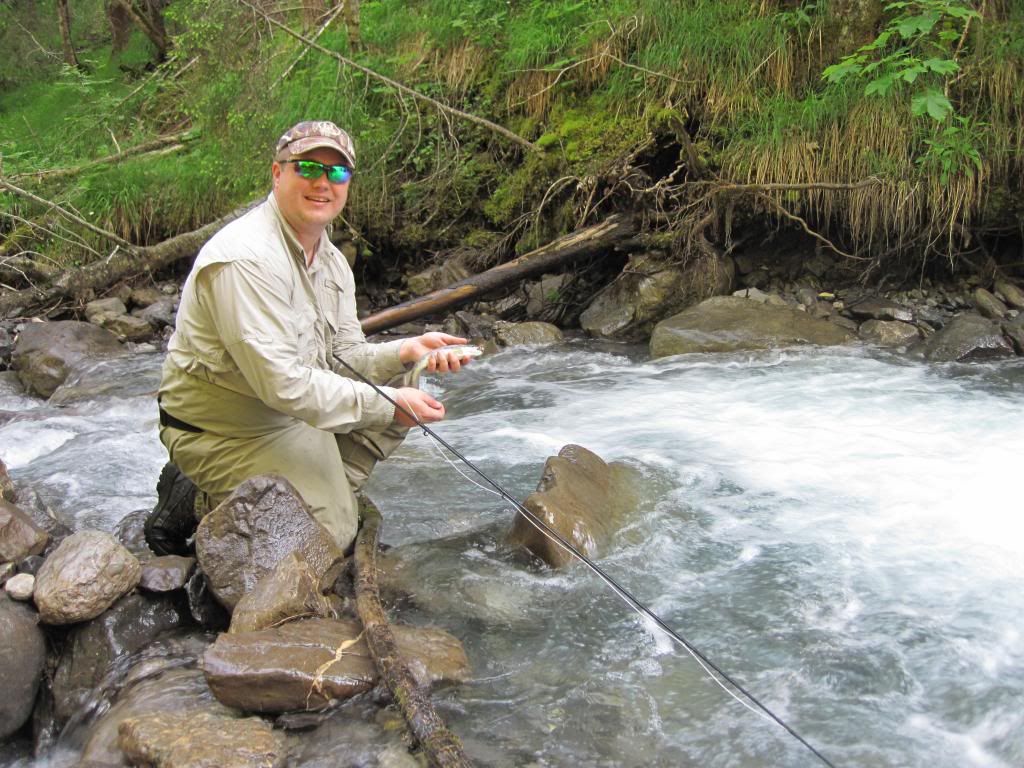 The stream was very different from PA. Faster. No pools. At all. In PA, you may have a fast riffle, but then there's a pool. There were no pools here, just a straight shoot of fast water, and it was all white. The fish were out of the current in the little corners and such, TIGHT to cover. It wasn't overly grown over, but required very accurate casts and good line handling. It wasn't easy fishing by any means. But it wouldn't have been fun if it were.

The woods were mostly pine, and while I knew what we were heading towards, most of the day you'd just get a peak here and there of the towering mountains. At the top, the forest backed away from the stream as the stream split up. So the view really started right as the fishing ended."

More thoughts and comments in the forum here and plenty of more photographs in his Photobucket.

Published by Dave Kile [
dkile
] on 07/12/2013 (1695 reads)
From the Pennsylvania Fish and Boat Commission (PFBC):
After confirming the presence of the invasive aquatic algae known as didymo, or "rock snot," in Pine Creek, Lycoming County, anglers and boaters are reminded that cleaning their gear is the easiest, most effective means of preventing its spread to other waters.
"Our biologists have not seen any evidence of a full bloom of didymo in the creek or nearby waterways," Department of Environmental Protection Acting Secretary Chris Abruzzo said. "This algae does not present a public health risk, but there is an ecological concern in terms of its future potential impact on the health of the waterway."
In late June, DEP biologists were conducting routine stream monitoring in Pine Creek upstream of Waterville in the vicinity of the Hamilton Bottom Canoe Access Area, a popular recreational destination. Laboratory analysis of a sample collected using an algal net detected the presence of didymo in the form of microscopic diatoms, a finding confirmed by the National Academy of Sciences.
The Pennsylvania Fish and Boat Commission (PFBC) continued to urge anglers and boaters to take steps to prevent the spread of the algae.
"We may not be able to eliminate didymo from an infected waterway, but there are easy steps we can take to slow its spread and to prevent it from spreading to other waters," said PFBC Executive Director John Arway.
"Didymo cells can easily be carried downstream and can be picked up by any items which come in contact with the infected water, including fishing tackle, waders, and boats and trailers. We urge anglers and boaters to 'Clean Your Gear!' before leaving a water body and entering another one."
The discovery of the algae in a popular recreational area potentially increases the risk of its movement to other waters in Pennsylvania.
"Flowing through the heart of Tiadaghton State Forest, Pine Creek and its parallel trail are increasingly popular with anglers, boaters, hikers and other Pennsylvania residents and visitors," said Department of Conservation and Natural Resources Acting Secretary Ellen Ferretti.
"The discovery of didymo has no immediate impact to the visitor experience on or along Pine Creek, but we ask all to remain vigilant in an effort to protect this invaluable waterway and other streams and rivers," Ferretti said.
Prior to detecting didymo in Pine Creek, the alga was found in the Youghiogheny River watershed in Fayette County, in the West Branch and main stem of the Delaware River, and in Dyberry Creek in Wayne County.
The PFBC recommends that anglers allow exposed equipment to completely dry before entering new waters. After equipment is dry to the touch, allow it to dry another 48 hours, the commission suggests. Thick and dense material, such as life jackets and felt-soled wading gear, will hold moisture longer, take longer to dry, and can be more difficult to clean.
Soaking equipment in hot water containing dishwashing detergent (two cups of detergent for every two and a half gallons of water) for 20 minutes or more also will kill didymo and some other aquatic invasive species.
Cleaning boats and equipment with hot water (maintained at 140 degrees Fahrenheit) by pressure washing or soaking is another effective method. If hot water is not available, a commercial hot water car wash also makes a good location to wash boats, motors and trailers. At the other end of the temperature range, freezing items solid for at least 24 hours is effective. If cleaning, drying or freezing is not practical, please restrict the equipment's use to a single waterway.
Didymo is not a public health hazard, but it can cause ecological damage by smothering other organisms which also live on the riverbed and support the food web for the resident fish community.
The algae, whose scientific name is "Didymosphenia geminata," has colloquially been called "rock snot" because of its appearance. When squeezed nearly dry, the algae, generally tan to beige in color, actually has the feel of moist cotton or wool.
For more details on how to stop the spread of didymo, visit
http://www.fishandboat.com/water/habitat/ans/didymo/faq_didymo.htm
.
For more information on how to clean your gear, visit
http://fishandboat.com/cleanyourgear.htm
.
Published by Dave Kile [
dkile
] on 06/17/2013 (2097 reads)
Published by Dave Kile [
dkile
] on 06/03/2013 (1691 reads)
The 2013 Paflyfish Jamboree and Meetup was marked by some of the best weather and hatches we have had in years. The crew that made it up starting mid-week took advantage of the great conditions hitting many of the central Pennsylvania streams like Penns Creek, Spring Creek and the Little Juanita (Little J).


The good dry fly fishing conditions dominated the weekend with pretty typical mid-May hatches. The colder weather that lasted into March and April did push the hatches back in general. Sporadic March Browns and sulfurs were the common mayflies every day. The evening crush hit just after 8:00 pm with spinners, March Browns and sulfurs hitting hard with a quick evening flurry of activity the trout went nuts on. Everyone seemed to do pretty well, but you had to be quick to take advantage of the evening party.

Along with he good weather and fishing many PAFFers took advantage of catching up with friends from across the country.

I ended up starting out on Thursday at Penns Creek with Bikerfish, Wgmiller, Csoult. Fun evening with Csoult who crushed it with a big night and Wgmiller catching a chain pickerel. I headed back to Penns on Friday with Afish and Frederick for a repeat. Plenty of guys enjoying the weather most of the afternoon and evening waiting for the evening hatch. Saturday was a little overcast and headed over the Little J. Fishidiot, Maurice and I put an assault on the the Little J. Glad to catch up on the stream with so many guys.


Much of the non-fishing time was centered around the Seven Mountains Campground. As usual Friday evening was a good gathering of campers catching up from the evening fly fishing. Saturday morning was marked with some morning coffee before everyone went of for the day. Saturday night was our raffle and will be covered in our part 2 of the blog post. Phish_On organized the smorgasboard of food items, which was a big hit. I want to thank everyone for their participation and good food we all could enjoy.

The best part about the weekend for me was so many people who shared with me their appreciated of the site. Regular heard about people who were able learn about fly fishing and meet with new friends as a exult of the site. Want to thank all those guys who share with others and take out all the new anglers to the sport. My photography is the best way for me to share my view of the weekend and more my shots can be seen here on Facebook.
Published by Dave Kile [
dkile
] on 05/13/2013 (6643 reads)




Over the past 18 years one of the best things to come out of the site are meetups and the annual Paflyfish Spring Jamboree. The Spring Jamboree is our annual get together to fish, camp, tie flies and discuss the one that got away. Over the years we have found an accommodating campground in Central Pennsylvania for us all to meet and camp for the weekend. I wouldn't even call it an exclusive Pennsylvania event with folks coming from Ohio, New York, New Jersey, Maryland and Florida. Some photo's over the years are here.

We have a lot of fun fishing over some of Pennsylvania's finest streams. If the Green Drakes often hatching and many head over to Penns Creek. Other streams the Little J, Spruce, Fishing and Spring Creek all offer some of the best in class fishing in the region. In some years it has rained, well every year, and there are many alternatives to the bigger named streams as well.

This year is no exception and members on the forum are making plans to meet the weekend of May 17-19, 2013 at Seven Mountains Campground in Spring Mills, Pennsylvania. Please contact them if you would like to stay there that weekend. They have a limited number of cabins and campsites.

We are working on more details but often we will have guest speakers, casting lessons, fly tying lessons, gear swaps and cool gear to check out.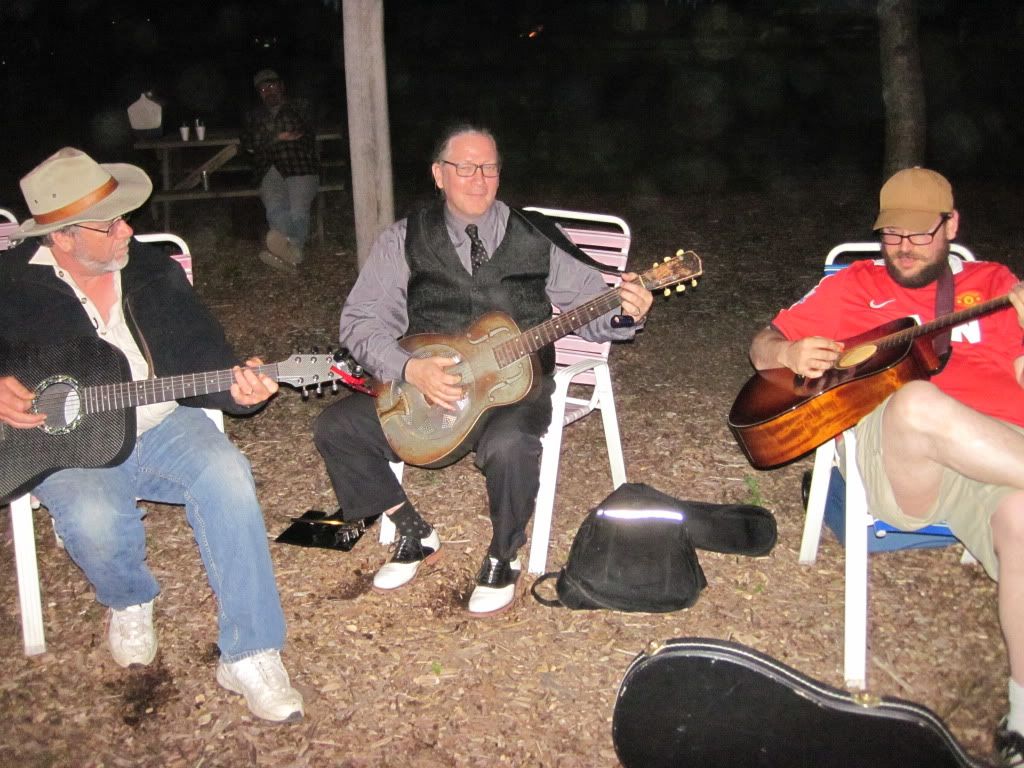 Friday, May 17th
Jam attendees often start arriving throughout the day if they haven't arrived earlier in the week. We don't have use of the pavilion until 3:00 PM on Friday. Stop by after 3:00PM to help or meet others trying to get back out on the water.

Saturday, May 18th
Coffee 6-9am available at the pavilion

Fire Ring at the pavilion around dark with Live Entertainment! - The PAFF Band gets going about 10:00 pm out some great tunes for all to enjoy. Hoping that Shaky and the rest of the band can get back together for more tour! If you'd like to join the band or just put in a solo performance, just bring your instrument and/or voice and let 'er rip. Quiet hours may be a factor. If we get all the sites booked for Seven Mountains, perhaps they'll extend them for us.

Sunday, May 19th
Coffee 6-9am available at the pavilion.

Streams like Penns Creek, Spring Creek, Spruce Creek, Little Juanita and Fishing Creek are all within an hour of the campground.










In addition to the expected fly fishing opportunities authors, fly shop owners, and other experts are usually in attendance and provide a lot of great knowledge at the evening gathers. Follow the latest details in the forum here.
Published by Dave Kile [
dkile
] on 05/04/2013 (2741 reads)
Well I just received an email from Shane on the latest from the Harman Invitational. Phil ended the day on Friday having caught the biggest trout of the day. This put them into a good spot to start the day on Saturday. The day ended with Shane sharing the following line: "We brought it home!"
Here is Shane and Phil during their interview with Curtis Fleming from the Outdoor Channel
Congratulation to Shane "SBecker" Becker and Phil "PhilC" Chadbourn for their efforts this weekend and representing Paflyfish. More details when the guys get back home and to some cell coverage!!
Published by David Weaver [
Fishidiot
] on 04/25/2013 (2542 reads)
By Dave Weaver

Earlier this month, the Pennsylvania Fly Fishing Museum celebrated its grand opening and many from our PAFF community were in attendance. This museum, as many of you know, has been an accumulating collection of our state's legacy anglers' equipment, papers, and flies etc for many years. Some of the collection has been on temporary loan to various communities around the state including here in Gettysburg. However, some of the best interpretive displays that many of you no doubt are familiar with have been displayed in a small museum located in a hallway in Fairfield Hall on the grounds of the Allenberry Playhouse. These displays are still there although the topic material has been rotated.

In recent years, as the museum's collection has grown, there has been an effort to secure a larger space with the capacity for better displays showing the full fly tying desks or rod building shops of men like Vince Marinaro or George Harvey. These displays are similar to the ones that can be seen celebrating the Darbies or Wulffs in the Catskill Museum of Fly Fishing. In addition to Marinaro and Harvey, who have larger "rooms," there are display booths for Joe Humphys, Jim Bashline, Ed Koch, Ed Shenk and several others. Speaking just for myself, when I gaze at the gear collections of so many great and innovative fly fishermen, I'm often struck at how basic and well worn their equipment was. These guys don't often look as if they were kitted out with the latest high end stuff from the latest trendy catalog. In any event, if you'd like to check out the Pennsylvania Fly Fishing Museum's website where you can see more pics of the museum, please hit: http://www.paflyfishing.org/.
You can also join or support the museum association.

It's a wonderful museum - kudos to the volunteers from the museum association who have worked so hard for so long to bring this new museum wing to fruition for us to enjoy. If you're joining me for the 8 June Gettysburg/Cumberland Valley mini jam, we'll be making a brief detour to see this museum. Also, the following weekend is the museum's annual Heritage Day on June 15th. Hope to see you there.


The main room with exhibitors
(Photo Courtesy Skybay)
"Skybay" and "Fishidiot"
(Photo courtesy Skybay)
Mark Susinno at work.
I consider Mark to be the best painter of game fish in the world. Check him out at:
http://www.natureartists.com/mark_susinno.asp
(Photo by Fishidiot)
George Harvey's display booth
(Photo by Fishidiot)

Among the top notch tiers present for the event were our own
Paffers "Wetfly01" and "Frequent Tier" (Dave and Mike).

Check out Dave's flies and methods at:
http://www.wetflywaterguides.com/


Published by Dave Kile [
dkile
] on 04/04/2013 (2456 reads)
It is always a lot of fun when members share their images from the stream. I love photography and try to capture those moments on the stream when I am fly fishing. So this winter we held a photo contest to add to the fun this winter.

Allen Fly Fishing sponsored our event this season and offered up some of their fine rods for our winners. I want to thank them for their support of the contest. Anglers can find out more about the complete line of rods, reels, hooks and lines that Allen Fly Fishing offers here.

So our judges enjoyed the many entries by members with the contest. Our first place goes to Dshee1 with Steelhead Beauty and wins the ATS 9'0" 5wt.



Second place to Tomitrout with Anticipation and wins the ATS 7'6" 3wt.



Finally and honorable mention by Studiomule for Snowman and is awarded the Compass 9'0" 5wt.



I want to thank all the participants who dared the cold and entered the contest. Thanks to our moderators/judges for their voting and of course Allen Fly Fishing for providing the rods to our three winners.

Winners please PM with your contact info.

No specific plans yet, but hoping to announce another contest this year. So keep those fly fishing images coming this spring and summer!


Published by Dave Kile [
dkile
] on 03/25/2013 (1439 reads)
Heritage Angler, Pcray(in the photo) and Foxgap239 put together the planning for another Newbie Jam on March 16. One of the several meet ups every through out the year that members on the site put together to fish or provide instruction.

The focus of the jam was the coaching and training to those new to fly fishing. The Newbie Jam was held at the Wildlands Conservancy's Pool Wildlife Sanctuary in Emmaus, PA on March 16.

Several members here from Paflyfish helped Heritage Angler, Pcray and Foxgap239 to then deliver hands-on training about many different topics including:
• Gear/Setup - "Head to Toe"
• Knot Instruction (hands on)
• Leader Setups
• Entomology (What trout eat, and their imitations)
• Fly Tying For Beginners
• Fly Casting Instruction
• Where to Fish – Types of Streams, and How to Find Them.
• Wild Brook Trout Fishing – Gear, Techniques, Navigation

Also in attendance was site sponsor Michael from Gogal Publishing sharing information about fishing guides.

I very popular event and one that speak volumes to the Paflyfish Community. Heritage Angler summed it up pretty well , "Today reminded me what good friends I've met through PAFF. I hope everyone makes the kind of friends that I've met here. Good fishing buddies are the best kind of friends, and I've been blessed with some truly great ones."

A special thanks to Heritage Angler, Pcray, Foxgap239 and all those who helped put this together.
Published by Dave Kile [
dkile
] on 03/13/2013 (1838 reads)


I met Bill Kosmer a few years ago on a trip to the Fly Fishing Show in Somerset. I really enjoyed his knowledge and observations with the many conservations issue that our waterways face in the region. His photography also caught my eye. When I heard about Bill heading on a trip to Chile I was sure he would be coming back with some good stories and some fantastic images as well.

With his DSLR cameras and two Contour video cameras he and his friend, Herb Baker, captured their trip into South America. I really enjoy seeing fly fishing from around the world and lucky when we can get a first person point of view from someone in our region share their story. Give yourself a little time to kick back and enjoy Bill's journey fly fishing in Chile from February 2013.

About Bill -
Bill's passion for fly fishing and photography was set in motion at an early age by his father. He spent most of his childhood days fishing the mountain freestone streams of his home waters of North Central Pennsylvania. Since those early days, the pursuit of wild trout has become a lifestyle for Bill. Over the last 20 years, camera and fly rod in hand, he has traveled extensively to fuel his passion for pursuing wild trout in remote locations from southern Chile to Montana to the backwoods of PA. His photos and writings have also appeared in the Drake and several newsletters and catalogs. He has given numerous presentations on his adventures and is an active member with the Doc Fritchey Chapter of Trout Unlimited in Harrisburg, PA, giving back to the resources he values so much. Bill is also an accomplished fly-tier and licensed guide. You can follow Bill further on his blog Trout Tails.