Published by Dave Kile [
dkile
] on 03/06/2014 (4239 reads)
Anytime you are fly fishing over at the Swatara or Quitty in Lebanon Valley a stop to the Snitz Creek Brewery is a must after packing up your gear. Proprietors, Patrick Freer and Adam Szajda opened the brewpub in January with a little something special for all us fly fishing anglers in mind. Anyone who has thrown a dry fly will love the attraction of getting a Brown Trout Stout draft beer from a tap handle made from a fly rod and reel.




The brewery goes all in with the fly fishing theme by not only taking their name from the local Snitz Creek waters, but adds a whole selection of crafted beers, food and even a logo that is a hop fly.




The Saturday afternoon I dropped in the place was already way crowded. Kim was kind enough to find me a spot to test the waters.




I enjoyed a sampling of the Opening Day IPA, Brown Trout Stout, Woolly Bugger IPA and Explorer Ale. The Explorer Ale is a season ale that offers nice combination of malt and hops. I'm an ale guy so it hit the spot. The Woolly Bugger was of course a lot bolder as an IPA with big body with a dark roasted punch. The Brown Trout Stout had a great mix of some roasted flavors including chocolates. The Opening Day IPA delivered a lighter color with some tasty hops.




The brewpub provides a great feel as a place to stop in with friends after a busy day or have enjoyed some time in the outdoors. Plenty of room at the bar, booths or tables to hangout enjoy not only some excellent beer, but wine and food too.




The menu carries that outdoor theme with Trophy Burgers, Shore Lunches and more. All authentic local food with items that include Lebanon bologna, grilled cheese and pretzel rolls. Who wouldn't want some Hook, Line and Sinker Fries!




I spent a some time talking with Charlie Hildebrand, Operations manager., who gave me a tour of the brewery and restaurant. Charlie was a great guy to speak with had a lot of good background on the brewpub. Patrick, Adam and other local partners spared no expense into the brewery with all new specialized brew tanks, gear and a kitchen that is state of the art. A really beautiful setup to go along with the fun environment.




Thanks to WGmiller for for sharing the news about Snitz Creek Brewery and I look forward to getting back over for some more Explorer Ale with a Trophy Burger and Woopie pie!

Snitz Creek Brewery
7 North 9th Street
Lebanon, PA
717-450-4467
Published by Dave Kile [
dkile
] on 01/08/2014 (4170 reads)
The Fly Rod Chronicles is a program I have been enjoying on the Outdoor Channel for a number of years. Curtis Fleming and crew travel the country sharing their fly fishing pursuits like no others. In early May of 2013 the show made it's way back home to West Virginia for the Harman's North Fork Invitational 2013. The event offers two-man fly fishing teams a chance to compete for first place on the North Fork of the South Branch River in West Virginia.



The Fly Rod Chronicles at the Harman's North Fork Invitational 2013



Some really top notch anglers get together for this event and Todd Harman was on me for a couple of years about getting a Paflyfish team going for the Invitational. Since Paflyfish has some pretty darn good anglers I figured it wouldn't be too hard to get a competitive team in place. With all the talent I see at a Paflyfish Jamboree I was more concerned about just fielding a team that could wake up for the first session.

As it turned out the short straws went to Shane "Sbecker" Becker and Phil "PhilC" Chadbourn to represent Team Paflyfish at the competition Shane had been to Harman's the year before, which offered him some advantage for the team. Before leaving I asked the guys to just have fun and do their best. I felt like I was sending my kids off to college and almost digressed into warning them about not getting into any trouble.

The North Fork does not support naturally reproducing trout and Todd Harman, Harman's Invitational host, makes sure the stream is always stocked with some awesome looking trout.

Not having been in any fly fishing competitions myself, I had to get familiar with how the Invitational worked. Basically, sixteen teams competed over two days during three sessions of fly fishing. Each team had two sessions on Friday and one on Saturday. Points were accrued by the total length in centimeters of trout over the three sessions. Each team was allowed to land up to seven fish during a session. The best eight teams then duked it out for one final session with the winner being selected based on those points from that last session. There was some strategy that each team needed to make with picking the section of streams or beat for the session. Higher scoring teams got the early picks on their preferred beats.



Shane at the Harman's North Fork Invitational



The guys headed off Thursday for the weekend and I waited for snippets of emails for updates on their progress.

[Spoiler Alert]
I got a short email late on Friday of first day from Phil cautiously offering up they had a lot of fishing yet to do, but they were in first place. Phil must have figured I would think this was some sort of hoax and Shane shortly followed with an email validating that they were ahead after the first two sessions. Phil managed to land one of the biggest trout of all the competitors that first day. It was great to read their excitement and was much better news than the bail thing that was still itching in the back of my head.

A mid-day email from the duo on Saturday was a little less encouraging. Day two Team Paflyfish presented some new challenges in the third session as they were only allowed to use two flies. That morning was not as productive and they fell back to third overall. This still put them into the finals and they had the third pick of the stream beat.

I didn't hear anymore from them until much later that night. I got a text photo of a poorly lit image from Shane that had some darkened red, white and blue looking thing. My guess was they didn't do so well and moved onto some Pabst Blue Ribbons. A more detailed email arrived later sharing that the guys ended having a really good day. They offered it would have been better if they could have landed a bunch of big rainbows that they missed getting into their nets, but the final message was, "We got it"! Much to their own surprise, Shane and Phil pulled it off by taking first place at the Invitational.



The Surprised Winners



"It was just awesome. We had a great time and I never thought that we would win. I just didn't want to come in last and holy cow we won the thing," said Shane. Phil added, "It was a really good time and enjoyed hanging with Curtis and crew."

Curtis later shared with me, "Phil & Shane are class-act and represented Team Paflyfish in high regards. They were a blast to hang out with and very good fly fishermen."

Catch all the fun of the weekend, including Shane and Phil of Team Paflyfish as they take on some of the best anglers from all over the country at the Harman's Invitational 2013 on the Fly Fishing Chronicles. Shows air on the Outdoor Channel starting Monday, January 13th at 11:00 am, Friday, January 17th at 7:00 am and 12:00 pm. A final program will be aired on Saturday, January 18th at 5:30 pm.

Harman's Luxury Log Cabins is a sponsor of Paflyfish. The North Fork does not support naturally reproducing trout and is stocked by Harman's along 1 3/4 miles of water providing anglers with the opportunity to fish for rainbows, browns, brookies, tiger and golden trout. A great place to relax with friends, family and for in some awesome trout fishing.

Photos provided by PhilC and Shane.
Published by Dave Kile [
dkile
] on 12/25/2013 (1432 reads)
Another fun year on the site and streams. Very thankful to all those who have helped others during the year in learning more about the sport. Looking forward to doing more of the same this year as well. We hope you and your family have a wonderful Christmas and wish you a Happy New Year.

Sincerely,

Paflyfish
Published by Dave Kile [
dkile
] on 12/10/2013 (2156 reads)
The Paflyfish Spring Jamboree is the annual spring meet-up when members from the site get together to fly fish, tie flies, camp and share a few stories. We have folks coming from Ohio, New York, New Jersey, Maryland and Florida. We have a lot of fun fishing over some of Pennsylvania's finest streams including Penns Creek, Spring Creek, Little Juniata River (Little J), Fishing Creek and plenty more in the region.



Csoult and BikerFish hanging at Penns Creek



This year is no exception and members from the forum are making plans to meet the weekend of May 16-18, 2014 at Seven Mountains Campground in Spring Mills, Pennsylvania. Please contact them if you would like to stay there that weekend. They have a limited number of cabins and campsites.

I am hoping to plan more activities specific to new fly fishing anglers. I am working on casting lessons, fly tying and even a few trips out on to some of the waters in the area. There are a lot of members on the site that will informally help folks out not familiar with the area. Just check the forums and don't be afraid to ask for some help.



Maurice and Fishidiot on the Little J



The pavilion is rented by Paflyfish and is used as a meeting point during the weekend. Plenty of impromptu conversations, fly tying and meet-ups all take place.

Friday, May 16th
Jam attendees often start arriving throughout the day if they haven't arrived earlier in the week. Stop by after 3:00PM to help or meet others trying to get back out on the water before dark.

Saturday, May 17th
Coffee 6-9am available at the pavilion

Saturday morning we will likely arrange for some of the beginner programs.

Fire Ring at the pavilion around dark. Will will be working on some more plans like a chili cook-off and other evening activities. Quiet hours may be a factor.

Sunday, May 18th
Coffee 6-9am available at the pavilion.

In addition to the expected fly fishing opportunities; authors, fly shop owners, and other experts are usually in attendance and provide a lot of great knowledge at the evening gatherings. Follow the latest details in the forum here.



Afish night fly fishing on Penns Creek



I'll run and updated post with details this spring.






Published by Dave Kile [
dkile
] on 11/28/2013 (2360 reads)
Some great fly fishing deals can be found this time of year and several of our sponsors have provided offers for members on Paflyfish starting today. Be sure to check these deals out while the offers last.

GPS Fishing Guide to Pennsylvania
ON SALE - Thanksgiving Day thru Cyber Monday
Regular Price - $24.99
Sale Price - $12.99
Both iPhone & Android Apps are on Sale

Montana Angler Fly Fishing
Book any multi-day fishing package with Montana Angler by December 7th and receive $50 off. Package must include a minimum of 3 nights lodging. Mention Paflyfish and contact Brian at brian@montanaangler.com or 406.570.0453. Visit our website here.

Risen Fly
Black Friday and Cyber Monday Sale! Deals found here
Take 25% off on EVERYTHING with code "blackfriday" on Friday and "cybermonday" on Monday.
Win a FREE Ichthus reel
If we get a total of 25 orders on EACH DAY we will give away a FREE Ichthus reel to those who made purchases from our site those days. So there are 2 FREE reels up for grabs.
The more you spend the more entries you get to win.
Spend $1-$50 and get 1 entry
Spend $50.01-$100 and get 2 entries
Spend $100.01-$150 and get 3 entries

Shadow Fly Fishing
Deals found here
• 20% off all Shadow 5wt models + 2 free packs of hooks with your order over a $60 value on both rod models
• buy 3 packs of hooks get 3 free a $30 value
• 25 dollars off the shadow warrior 9ft 7wt
Trident Fly Fishing
Deals found here
20% off on Fly Lines, Fly Selections
15% off Sale items (for a whopping 35% off!)
15% off leaders and tippet
Some great deals include - Lamson Lightspeed for $195
There will be more deals throughout the weekend.
Published by Dave Kile [
dkile
] on 11/25/2013 (998 reads)
Personally this year has been challenging one for me and have a lot to be thankful for. Paflyfish is always a good place for me to get myself grounded. Contributions by so many on the site make it a very successfully community.

After eighteen years, Paflyfish has a lot to be thankful for and the moderators lead in those efforts. Maurice, JackM, Fishidiot and Afishinado contribute in so many ways, most are never seen by the site. Their contributions go way beyond fixing posts, handling disputes or cleaning up a few skirmishes that ensue on occasion. They provide a lot guidance and important community direction that helps make sure things running smoothly.

There are a lot of other folks on the site that share their time to help out others learn more about fly fishing. Giving back comes in many forms including: conservation efforts, political involvement, teaching new anglers or volunteering with programs like Wounded Warriors. My friends Ron and Greg dragged me all over Northern Pennsylvania for years as I floundered figuring out what fly fishing was all about. Their patience and coaching really helped me develop an interest in the sport and is what inspired me to create the web site.

Many readily give back and contribute to the site. I really want to thank Heritage Angler for his efforts putting together the PAFF Eastern PA Fly Tying Jamboree and PAFF Instructional Jamboree. Both of these events focus on helping new anglers learn more about the fundamentals of fly fishing. Plenty of others including: Frederick, Fishidiot, Foxgap239, The_Sasquatch and Krayfish put together a variety of jams all over the region that invite new fly fishing anglers to the sport.

I am always blown away with members like Csoult and his support of the site as he donated of the beautiful hand-made wooden rod cases at this years Spring Jam. There are plenty more examples and sorry I am not able to cover them all. Paflyfish gives back as well with support to the Youth Rivers Fly Fishing Camp in 2013 and will be supporting additional worthwhile causes next year too.

As the site has grown over the years and support by sponsors has helped keep our web presence strong and many of our activities going. We are fortunate to have Allen Fly Fishing, Harman's North Fork Cottages, Montana Angler Fly Fishing, Gogal Publishing, Trident Fly Fishing, The Sporting Gentleman, Risen Fly and Shadow Fly Fishing support the site.

I realize there are a lot of places people can spend their time. I want to thank you and those mentioned for contributing to Paflyfish.

Stay Healthy and Happy Thanksgiving!

Dave

Published by David Weaver [
Fishidiot
] on 08/28/2013 (12892 reads)
This summer the Cumberland Valley Chapter Trout Unlimited (CVTU) volunteers have completed another section in a multi-phase habitat improvement project in The Run in Boiling Springs. The first log wing deflector that was completed last summer. More recently the parking lot was finished early this summer.

The next pics depict the log vane deflector under construction and completed over the summer as well. This was about 25 yards downstream from the AT footbridge and turned a fairly flat, featureless pool with a depth of about a foot, into a much deeper section with a nice plunge pool and better flow/oxygenation. Within minutes after we completed this, I saw a couple nice trout move up under the logs.










Thanks are due to the Bureau of Forestry for donating the logs and Pennsy Supply for the shot rock. Also: PFBC, Shane Gilbert, and (as always) Gleim Environmental for their time and help. It's much appreciated.

In August the ongoing project by CVTU to improve habitat in The Run continued. Two additional vane deflectors were installed just downstream with the help of the students from the Rivers Conservation and Youth Camp. In the past, many of you have supported CVTU or the youth camp with donations or flies.

If you have not fished The Run in Boiling Springs lately, drop by. It's holding fish in large numbers this summer (this has not been consistent in recent years) and fishing well, even in the hottest weather. The improvement projects have worked well and fish can be seen holding both above and below them. Just a couple nights ago I was fly fishing, I managed an very nice brown trout on my third or fourth cast in The Run.

It's been a good year for The Run as well as the Breeches itself. I think the improvements have turned out well. Drop by and check 'em out.

Special thanks for CVTU for their efforts on this conservation effort for anglers.

Published by Dave Kile [
dkile
] on 07/15/2013 (3049 reads)
Paflyfish member Pat "pcray1231" this past week fit in some fly fishing while over in Switzerland. His trip took him to Northern Switzerland. He shares a few thoughts and photos with the forum.

"The scenery was excellent, the fishing was excellent, it's exactly what I wanted and asked for from the guide. I coulda fished a big lake for pike, which was apparently hot. I coulda went to more lowland areas and fished bigger waters. But THAT is what would be a lot like PA. Northern Switzerland looks a lot like central PA with better food. I wanted to get down in the Alps and fish the highlands.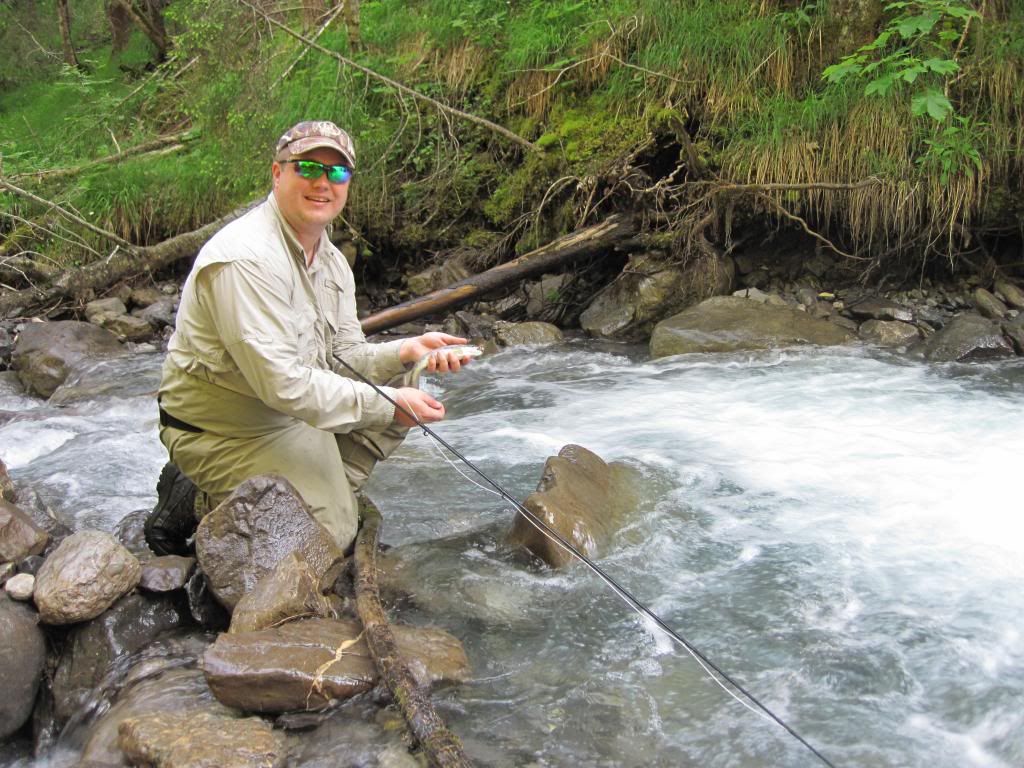 The stream was very different from PA. Faster. No pools. At all. In PA, you may have a fast riffle, but then there's a pool. There were no pools here, just a straight shoot of fast water, and it was all white. The fish were out of the current in the little corners and such, TIGHT to cover. It wasn't overly grown over, but required very accurate casts and good line handling. It wasn't easy fishing by any means. But it wouldn't have been fun if it were.

The woods were mostly pine, and while I knew what we were heading towards, most of the day you'd just get a peak here and there of the towering mountains. At the top, the forest backed away from the stream as the stream split up. So the view really started right as the fishing ended."

More thoughts and comments in the forum here and plenty of more photographs in his Photobucket.

Published by Dave Kile [
dkile
] on 07/12/2013 (1671 reads)
From the Pennsylvania Fish and Boat Commission (PFBC):
After confirming the presence of the invasive aquatic algae known as didymo, or "rock snot," in Pine Creek, Lycoming County, anglers and boaters are reminded that cleaning their gear is the easiest, most effective means of preventing its spread to other waters.
"Our biologists have not seen any evidence of a full bloom of didymo in the creek or nearby waterways," Department of Environmental Protection Acting Secretary Chris Abruzzo said. "This algae does not present a public health risk, but there is an ecological concern in terms of its future potential impact on the health of the waterway."
In late June, DEP biologists were conducting routine stream monitoring in Pine Creek upstream of Waterville in the vicinity of the Hamilton Bottom Canoe Access Area, a popular recreational destination. Laboratory analysis of a sample collected using an algal net detected the presence of didymo in the form of microscopic diatoms, a finding confirmed by the National Academy of Sciences.
The Pennsylvania Fish and Boat Commission (PFBC) continued to urge anglers and boaters to take steps to prevent the spread of the algae.
"We may not be able to eliminate didymo from an infected waterway, but there are easy steps we can take to slow its spread and to prevent it from spreading to other waters," said PFBC Executive Director John Arway.
"Didymo cells can easily be carried downstream and can be picked up by any items which come in contact with the infected water, including fishing tackle, waders, and boats and trailers. We urge anglers and boaters to 'Clean Your Gear!' before leaving a water body and entering another one."
The discovery of the algae in a popular recreational area potentially increases the risk of its movement to other waters in Pennsylvania.
"Flowing through the heart of Tiadaghton State Forest, Pine Creek and its parallel trail are increasingly popular with anglers, boaters, hikers and other Pennsylvania residents and visitors," said Department of Conservation and Natural Resources Acting Secretary Ellen Ferretti.
"The discovery of didymo has no immediate impact to the visitor experience on or along Pine Creek, but we ask all to remain vigilant in an effort to protect this invaluable waterway and other streams and rivers," Ferretti said.
Prior to detecting didymo in Pine Creek, the alga was found in the Youghiogheny River watershed in Fayette County, in the West Branch and main stem of the Delaware River, and in Dyberry Creek in Wayne County.
The PFBC recommends that anglers allow exposed equipment to completely dry before entering new waters. After equipment is dry to the touch, allow it to dry another 48 hours, the commission suggests. Thick and dense material, such as life jackets and felt-soled wading gear, will hold moisture longer, take longer to dry, and can be more difficult to clean.
Soaking equipment in hot water containing dishwashing detergent (two cups of detergent for every two and a half gallons of water) for 20 minutes or more also will kill didymo and some other aquatic invasive species.
Cleaning boats and equipment with hot water (maintained at 140 degrees Fahrenheit) by pressure washing or soaking is another effective method. If hot water is not available, a commercial hot water car wash also makes a good location to wash boats, motors and trailers. At the other end of the temperature range, freezing items solid for at least 24 hours is effective. If cleaning, drying or freezing is not practical, please restrict the equipment's use to a single waterway.
Didymo is not a public health hazard, but it can cause ecological damage by smothering other organisms which also live on the riverbed and support the food web for the resident fish community.
The algae, whose scientific name is "Didymosphenia geminata," has colloquially been called "rock snot" because of its appearance. When squeezed nearly dry, the algae, generally tan to beige in color, actually has the feel of moist cotton or wool.
For more details on how to stop the spread of didymo, visit
http://www.fishandboat.com/water/habitat/ans/didymo/faq_didymo.htm
.
For more information on how to clean your gear, visit
http://fishandboat.com/cleanyourgear.htm
.
Published by Dave Kile [
dkile
] on 06/17/2013 (2085 reads)