Category
Last published item
Fly Fishing

Fly Fishing Show - Lancaster 2019

Product Review

Product Review

Hardy Zephrus Ultralite Fly Rod Review

Fly Fishing Tips

Fly Fishing: Everyday Carry Essentials (EDC)

Getting Started

Fly Fishing Getting Started - The Mayfly Stages ...
Published by Dave Kile [
dkile
] on 11/12/2013 (1878 reads)
I was anxious to squeeze a little more fly fishing this fall and pleaded with Maurice to give up on his leaf raking plans to join me. Both our teams in the NFL have been doing pretty poorly, so giving up honey-do's and another anticipated butt-kicking was an easy call.



Fall Fly Fishing


We met up at one of our secret favorite dirty fly fishing streams in York County and made our way upstream about mid-morning. The stream was stocked last month and even in the flat water along the banks there we a few trout hanging about. A large amount of rain last month also drove a good conversation about where fish go during a flood. We both agreed it all depends of they were wild or if they were recently stock.

The bright sun was a helpful in raising the air temps up to about 57 degrees. The water was very low and gin clear at 44 degrees.

Maurice quickly uncovered a pod of trout between a stretch of rocks about 20 feet long. Finding the trout and quietly moving into position when the water is so low and clear is critical.

After a very serious discussion on red hots, weenies, bead heads, zebra midges and walt's worms we snuck in fairly close. The wind helped reduce the surface visibility and allowed us to get in without spooking the trout. One of the few times a little bit wind is helpful when you are fly fishing.



Something from the PFBC


Maurice then did his usual thing of catching fish and I did mine thing of taking photos of him catching fish.

We made are way upstream taking our time to cautiously spot the trout and quietly approach holes along the way. Most of the trout we saw were sitting back a few feet from the rocks, not moving too much, but easily skittish if we moved in too quickly even from about 25' away. Polarized lenses were a must and even then a trained eye was helpful spotting the trout.



Something a little wild


With the water being so cold and the trout were hanging on the bottom, it was really necessary to get our flies down deep. We are kept in our strike indicators about 5'- 8' off the flies with a little bit a split shot. Even in what seemed like very low water conditions many of the holes were still very deep.



Sneak Attack


We even hooked into a couple of trout at a few spots that I normally would have overlooked. Maurice is always really good about reminding me of the things that are right in front of me.

At this point in the season you never know how many days you have left to fly fish. Been a bit of challenging year for me personally, so getting some time on the water with Maurice was very much appreciated especially when he remembered to bring the beer when we got back to the trucks.
Published by David Weaver [
Fishidiot
] on 09/23/2013 (13645 reads)
By Dave Weaver
President of the United States and General of the Armies Dwight Eisenhower was an avid outdoorsman and enjoyed a wide range of shooting and fishing pursuits. His retirement home here in Gettysburg is managed now by the National Park Service as a museum and historic site. NPS archivists and historians currently hold many of Ike and Mamie's personal possessions in a separate storage area where they're being conserved and catalogued. I was able recently to get access to this storage site to photograph Ike's fly rod and some of his other fishing gear. Also on display at the farm's reception center is a fly/spin combo rod.
Ike undoubtedly owned a good many rods and reels and some have perhaps been lost to history, held in private collections, or may be stored at Abilene. While he enjoyed all manner of fresh water fishing, Ike was particularly fond of fly fishing for trout. Local rumor has that streams around Camp David were stocked with trout whenever Ike was visiting and local anglers, upon hearing that Ike had been at camp, would flock to fish the downstream areas of these creeks and catch the remaining fish.
I'm not sure if he spent much time salt water fishing however there are three different sand spikes and a chum pot in the NPS collection. The fly rod is a Pflueger R3780 in eight foot length and made of fiberglass. The White House tag can be seen on the rod bag. The small bottle is dry fly treatment and labeled Silicote Dry Fly Dressing, copyright 1946. I'd like to believe that this fly rod and some of the other gear might have some neat stories to tell. Ike loved fishing and, with the great responsibilities he carried on his shoulders, one certainly can't begrudge him his days on the stream.
For Eisenhower, like many of us who love fly fishing, the sport probably served as way to make a point about something else. In the next photo, Ike has just been nominated and is getting acquainted with his new VP Richard Nixon in Fraser, Colorado. The renowned historian Stephen Ambrose wryly wrote of this photo,
In casting, as in politics, Eisenhower was terribly earnest in his attempts to educate Nixon, with frustrating results in both cases.
(Photo and quote courtesy
Eisenhower Soldier, General of the Army, President- Elect 1890-1952
by Stephen Ambrose, p 170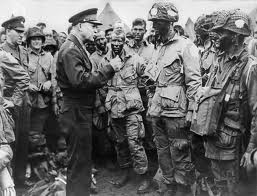 Perhaps the most famous wartime photo of Eisenhower is just before D-day when he's chatting with paratroopers from the 101st Airborne getting ready to jump into Normandy. For years I've wondered what sort of pep talk was he was giving them? Well it turns out that the tall lieutenant on the right in the photo was from Michigan and later told the story that, when he told the general where he was from, the discussion turned to – no surprise – fly fishing. The cameraman just happened to shoot the photo as Ike was demonstrating the intricacies of fly casting to his rapt audience of Soldiers. Perhaps we can hope – and I'd like to believe – that this brief focus on fly fishing, at least for a few moments, served as a brief escape for these troops from the onerous duties awaiting them over the next days.
The author would like to thank Mike Florer of the NPS for assistance with access to these artifacts. For more information on the Eisenhower National Historic Site or to plan a visit, please hit:
http://www.nps.gov/eise/index.htm
Published by Dave Kile [
dkile
] on 04/30/2013 (3513 reads)
Todd Harman, Owner of Harman's Luxury Log Cabins, approached me this past winter about making sure Paflyfish was represented at this years Harman's Invitational. The Harman's Invitational is a fly fishing competition with two-man teams hitting the North Fork of the South Branch River in West Virginia the weekend of May 3-5, 2013. Typically there are about seven to nine teams represented from the East Coast.

Plenty of big bows and avid anglers in a great setting!





Harman's Invitational 2012 on Fly Rod Chronicles




I received quite a bit of interest about this opportunity from several folks on the site. Not to miss out of the fun, Paflyfish rallied Shane "SBecker" Becker and Phil "PhilC" Chadbourn to represent us in West Virginia for the weekend. Shane and Phil will be heading down Thursday to get settled in and prepare for the tournament.

"I think it will be an amazing opportunity to represent the members of the site," shared Shane. "Hoping we can do well for Paflyfish while we are at Harman's this weekend."

Maurice helped make sure we sent the guys off with some new Paflyfish hats and shirts. I just asked them that they have fun and do their best.

We look forward to hearing about the weekend. The event will be covered by Fly Rod Chronicles with Curtis Fleming from the Outdoor Channel and aired at a future date.

Harman's Luxury Log Cabins is a sponsor of Paflyfish. The North Fork does not support naturally reproducing trout and is stocked by Harman's along 1 3/4 miles of water providing anglers with the opportunity to fish for rainbows, browns, brookies, tiger and golden trout. Everyone who has stayed has had rave reviews of their trip to Harman's.

Fly Rod Chronicles with Curtis Fleming airs weekly on the Outdoor Channel. Tuesdays at 11:30 a.m., Fridays at 1:00 p.m., & 6:30 p.m. EST every Saturday.
Published by Dave Kile [
dkile
] on 03/18/2013 (2181 reads)
Have you ever planned to go on a trip and wanted some extra rods, reels or more? Have you been interested in trying some new items out before you buy? Well the Rental Fly Shop now offers a way to rent rods, reels, boots, waders and clothing.
The
Rental Fly Shop
is a subsidiary of the TCO Fly Shops. Chris Frangiosa, Manager, at the Bryn Mawr store filled me in at the Fly Fishing Show in Lancaster about the new services. "Rental Fly Shop was designed with both the beginner and the advanced angler in mind," shared Chris. "This site enables anglers to test multiple items before purchase, try the sport for the first time without a major investment, rent gear for a trip and much more," added Chris.
I like the idea that they can provide complete set-ups for anglers. Seems to be a great offering for guides who need extra gear for clients. Anglers trying to introduce the sport to friends and especially if you have a trip in mind.
They provide a selection of gear from manufactures including: Simms, Patagonia, Scott, Sage, Orvis and Abel. Equipment can be picked up or shipped. Consumable items like flies are not available to rent, but are available at the stores.
For more information you can check out the website (
www.rentalflyshop.com
) or stop in any of the TCO Fly Shops and learn more.
Published by Dave Kile [
dkile
] on 01/07/2013 (2425 reads)
I always enjoy hearing about those in our fly fishing community that contribute and help others. Gaeron (Gaeronf) Friedrichs is one of the younger members of the site and has been doing just that this year. Recently Gaeronf has started the Delaware Valley Fly Fishing Club (DVFC) at Delaware Valley High School under the supervision of Mr. Schaffer.


As the founder and president, Gaeronf has organized the DVFC Thursday meetings and helped planned upcoming activities. The club has about 7 high school students looking forward to learning about and helping each other get started with fly fishing. At the first meeting in December they watched a video about the overview of the fly fishing sport. Subsequent meetings have been focussed on knot tying and learning how to tie flies. In future meetings the are looking forward towards learning about stream entomology and working on tying more flies.

Heritage Angler and others from Paflyfish have teamed up with DVFC on Saturday, January 12th to help provide hands-on lessons for the club members. More details about helping out this weekend can be found here in the forum. A special thanks to Heritage Angler and those volunteering their time this weekend.


The club is looking for donations and would graciously accept: rods, reels, fly lines, backing, tippet, leaders, forceps, nippers, fly boxes, vests, packs, split shot, floatant, strike indicators, flies, waders, etc. Please PM Gaeronf if you can help the club out.

Congratulations and good luck to Gaeronf in getting this club going. You can also catch Gaeronf at the upcoming Somerset Fly Fishing Show were he will be Ben Turpin's booth and catch his blog here.
Published by Dave Kile [
dkile
] on 12/03/2012 (1623 reads)
2012 NJ Fly Fisherman of the Year from Tightline Productions on Vimeo.
The 3rd Annual NJ Fly Fisherman of the Year contest was held on November 10, 2012 on the South Branch of the Raritan River at Raritan Inn in Hunterdon County, NJ. Each of the ten New Jersey Trout Unlimited Chapters were invited to send challengers to this years competition. This year held some changes to the stream. During July fisheries biologist Joe Urbani and his team spent time working the stream bed to lower water temperatures, create defined channels, add holding pools and create scour potential to keep the river running deep. The next effect is a vastly improved stream and lots of pockets for the trout. There were nearly two dozen identifiable fine places to fish.

The day started with check-ins, hot coffee, and some rules orientation. The early rounds consisted of two fishing sessions and a "bye" cutting the contestants to three for the afternoon finals. Angelo Conti, Stuart Shaffron, and John Wester battled it out until a few minutes before the bell with Angelo Conti taking top honors. There was a serious amount of talent in the waters of the South Branch for this event. Thoughtful fly selections, multiple styles and plenty of river stewardship was evident all day long. The fellowship grew into the eventings banquet and generous amounts of comraderie.

Angelo Conti took top honors for the day with multiple large catches and a deft hand on the rod. More results can be found here.

Video provided from Tightline Productions.

Published by Dave Kile [
dkile
] on 10/25/2012 (2951 reads)
by Brian McGeehan
from Montana Angler Fly Fishing
As a youth growing up in Pennsylvania I enjoyed reading about many of the world's famous wild trout destinations including Alaska, Kamchatka, Montana, Patagonia and New Zealand. As an avid trout fisherman I have been very fortunate to travel to many of the world's destination wild trout locations and eventually moved to Montana. One of my favorite destination locations to visit is central Patagonia. Most of the other famous international destinations offer incredible fly fishing but there is often one style of fishing that you experience there: think sight fishing for huge browns in New Zealand or catching huge rainbows in Alaska. Patagonia is very similar in many ways to the American Northwest and resembles a blend of coastal Washington, Montana, Wyoming. My favorite characteristic of fishing Central Patagonia is the same thing that I love most about Montana: diversity. Just like my home waters in the Big Sky state you can fish a different river or stream every day including a sampling of spring creeks, trophy stillwaters, tailwaters and freestone rivers of all shapes and sizes. Although many aspects of Central Patagonia resemble the Rockies or Pacific Northwest - the lack of pressure from anglers is dramatically less than found in the Western US. I lead hosted trips to Patagonia most years in the off season and have several friends and guides that either run lodges or guide down south. Although I feel competent to speak to my experiences in Patagonia I don't consider myself an expert on the region and there are still many fisheries in Argentina and Chile that I personally haven't fished so this post is not designed to be an authoritative guide but just my own personal advice and notes on my travels to the area.

Where is Patagonia?
Patagonia simply refers to the southern Andes and includes both Chile and Western Argentina. Most of the classic trout fishing that you read about occurs in Northern and Central Patagonia. The far southern reaches of Patagonia are better known for sea run fisheries of huge brown trout like in Tierra del Fuego or the Rio Gallegos in Santa Cruz district. In general the Chilean side of Patagonia is much wetter and is home to some very large volume rivers. Chile looks a lot like the Cascades or Olympics in coastal Washington. Most of Argentine Patagonia is in the rain shadow of the Southern Andes and is much dryer. The scenery in Argentine Patagonia looks a lot like Montana, Wyoming and Colorado. Some of the regions like Los Alerces National Park are densely forested and others offer near desert climate depending on how close to the mountains you are. In general Chile is less developed and more remote, but it also is harder to get from river to river since each valley is essentially in a rugged fjord.


Northern Patagonia on the Argentine side is the most famous for fly fishing. This region is roughly north of Bariloche and south of San Junin de los Andes and includes legendary waters like the Malleo, Traful, Limay and Chimehuin to name a few. When visiting Northern Patagonia you typically stay on one or two of the massive estancias and wade or float fish on the estancia or float one of the local rivers using public access at bridges.

Central Patagonia fishing is centered around the Argentine town of Esquel. Esquel is about a 5 hour drive south of the larger tourist town of Bariloche. The good fishing extends to the north in Los Alerces National Park, to the east with the classic multi day float on the Rio Chubut or the spring creek fishing on Arroya Pescado, The massive Rio Grande and Futaleufu (on the Chilean side) and the remote Rio Pico region about three hours south of Esquel.

Getting to Central Patagonia
If you are planning on fishing the Argentine side of Central Patagonia or the Futaleufu in Chile you should plan on flying to Esquel. Plan on spending one night in Buenos Aires upon arrival. Most flights to the capital city leave the states in the evening and arrive in Argentina in the morning. I sleep well on flights and feel pretty good upon arrival after getting 6 or 7 hours of sleeping on the plane. There is generally only one flight to Esquel each day and they only are offered 4 days a week. There are usually around 7 flights a day into Bariloche every day which is to the north but if you can design your trip around the flight schedule into Esquel it is much more convenient. Although it is sometimes possible to get to Esquel on the same day you arrive in BA I don't recommend it. The domestic flights are at a different airport and the connections are pretty tight if you are trying to catch a cab across the city. Buenos Aires is an amazing city and is often referred to as the Paris of South America. Enjoying one or two nights in BA is always a very enjoyable part of travelling to Argentina.

If you are fishing Chile (with the exception of the Futaleufu river which is just across the border from Esquel) you generally fly into Santiago and then connect the same day to Puerto Mount. Usually the lodge that you are travelling to arranges a charter flight from that point. There aren't really many independent guides in this area and fishing on your own isn't realistic due to the terrain so the lodge you team up with should handle all of your logistics. Farther south in Coique there are independent guides but the public waters in that area also receive more pressure.

I have visited every country from Mexico to Columbia and both Chile and Argentina. In my travels in both Chile and Argentina I have always felt very safe. My level of "safety radar" is about the same as when travelling in Europe which is a nice perk compared to some of the Central American countries that I have travelled in where you have to be much more alert to safety concerns.

More after the break here
Published by Dave Kile [
dkile
] on 07/24/2012 (2397 reads)
Tyler Hughen, Kahlil Hudson and Alex Jabonski of Finback Films have taken on a fly fishing film project and looking for some help to complete the project. Their letter below shares their plans. More details about the project can be found on
Kickstarter
.
Dear Friends,
As many of you know Low & Clear has been a labor of love that's been a long time in coming to fruition. It has always been a very personal project, and one we've had a hard time letting go of creatively.
The good news is, the film is done and we want to share it, however, there are significant costs associated with releasing a film of this caliber, and we are flat broke. Up to this point we have self funded the shooting, editing, music composition, sound mix and professional color correction that has allowed us to produce the HDCAM that has been screening at film festivals.
Moving forward, we have set our goal for exactly what we need to release and self-distribute the film on DVD and Itunes.
We want to be as transparent as possible, here's what we need the money for:
MUSIC LICENSING: $11,500. [This is far and away our biggest fundraising challenge. The film is filled with original score by Doug Major, but there are a handful of songs that we cannot live without. These licensing fees are what we have to pay to the recording artists to use their songs.]
DVD AUTHORING: $1,150
DOLBY 5.1 SURROUND MIX: $1000 [Sounds great, but also a requisite for acceptance to iTunes streaming.]
DVD GRAPHIC DESIGN: $250
iTUNES HD FILE PREP AND SUBMISSION FEE: $1,600
Total: 15,500
If you're unfamiliar with Kickstarter–HERE'S HOW IT WORKS. If you choose to pledge an amount–a hold is put on your card with Amazon for that amount. If our target goal is reached by the end of the 30 day campaign, your card will be charged and your reward will be shipped. If we don't hit our goal, nobody's card will be charged, and the project will not be funded. Basically it's all or nothing!
We've brought the film a long way – we premiered at SXSW, where we won an Audience Award and the film continues to screen at prestigious film festivals around the world including Hot Docs, Camden International, True/False, Dallas International, and Telluride MountainFilm, and upcoming film festivals we'll be announcing soon.
People from all walks of life have been connecting with Low & Clear, and some nice reviews can be found here, here and here.
Our biggest goal is to get DVD's out asap to the fans that have been patiently waiting. If our kickstarter campaign is successful, Low and Clear will be widely available–but reserving a copy now will put the first print run in your hands. Needless to say, the support is more than appreciated. We've poured our heart and souls into making this film, funded it by selling cars and maxing out credit cards, and with your help we hope to share this film with as many folks as possible.
Thanks for your time,
Tyler Hughen
Kahlil Hudson
Alex Jabonski
www.lowandclear.com
Published by David Weaver [
Fishidiot
] on 06/12/2012 (3240 reads)
This year will be the tenth annual Pennsylvania Fly Fishing Heritage Day and will be held at the pavilion at Allenberry Resort as in the past. I've attended most of these over the years either as a spectator or vendor and always look forward to it.


The event helps raise funds for the Pennsylvania Fly Fishing Museum Association. The PFFMA holds the most extensive collection of fly fishing memorabilia in the state including many of the artifacts and personal papers of our state's legacy anglers such as Vince Marinaro. The PFFMA currently has a display of some of this collection a short walk up the Allenberry complex in Fairfield Hall. This display also includes a cabinet telling the story of the famous Penn State Fly Fishing Course and George Harvey's unique legacy. If you're an "alumnus" of this course, seeing the display ought to make for a nice trip down memory lane.

The event runs 8:30am to 4pm and includes over seventy vendors and speakers conducting casting and fly tying demos as well as vendors selling old used gear and books, art, as well as more bamboo rod vendors this year. I've found many a good deal on old equipment, especially older books and fly reels over the years. Underwater Oz will be conducting a video presentation; Ye Old Colonial Angler will be there too….in addition to many other events. Cost is $8 (kids free) or you can pre-register online for $12 and enjoy a buffet lunch as well.

If you've never seen this event, by all means check it out this year. Hope to see yuh there.
Hit the link below for more info or to register: http://www.paflyfishing.org/heritage_12.html

Dave W
Published by Dave Kile [
dkile
] on 05/07/2012 (6220 reads)
Throughout the year trout feed a disproportional amount of the time under the water. For me even during a recent sulphur hatch on Spring Creek trout were not rising and could be seen actively feeding below the surface. George Daniel's book, Dynamic Nymphing, offers an extensive look at tactics and strategies that get to the heart of subsurface nymph fishing.


I enjoy all the puzzles that fly-fishing provides and always appreciate ways to overcome those challenges. George shares the best of these techniques in solving many of these trials with his book in a wonderful format of instruction, photography and sketches for some of the best approaches to nymph fishing.

A range of chapters provide: a nymphing systems overview, riggings, casting techniques, tight-line tactics, fly patterns, small streams, challenging locations and much more.

Anglers not as familiar with all aspects nymph fishing or looking to extend their subsurface skills will quickly enjoy all facets of this book.

For example George provides details for the Curly Q rig, which is ideal for shallow water and longer casting requirements. This may be a more advanced technique for some and is broken down into a couple parts within the book for use and clarification. Explanations of how to make the Curly Q and ways to cast this rig are completely covered. In addition, he provides many other detailed leader formulas making it easy to understand where and when to implement these different strategies.

Dynamic Nymphing provides several for tight-line tactics, which is a method of nymphing without the use of a suspension support device. Joe Humphreys mentored George and details of the Harvey/Humphrey high-stick methods are explained along with several European nymphing styles as well.

George provides well over 60 detailed fly patterns ranging from pheasant tails to Czech nymphs. All these flies are beautifully photographed and chronicled.

For those looking to explore wild brook streams or find themselves in other challenging spots there are several chapters that take you off your typical stream and provide options in some adverse nymph fishing situations.

While I have been fly fishing for quite some time, I can get bit lackadaisical with my approach to the sport. Too often I stick with what I know. What I liked most about Dynamic Nymphing for me was getting me out of my comfort zone and to try some techniques I have not yet mastered. For those newer to the sport the Dynamic Nymphing provides a wealth of information that will certainly help improve their fly-fishing opportunities at many levels.

Dynamic Nymphing: Tactics, Techniques, and Flies from Around the World [Hardcover] by George Daniel can be found on Amazon here

.


George Daniel is assistant manager at TCO Fly Shop, in State College, PA. He travels the country conducting fly-fishing clinics for various groups and organizations. George is a former member and current Head Coach of Fly Fishing Team USA. Some of his accomplishments include being a two time national fly fishing champion, won The Fly Fishing Masters, and ranked as high as fifth in the World along with other competitive achievements. The title of the book will be "Dynamic Nymphing." He lives near Lamar, Pennsylvania. If you want to keep up with George in the Internet you can follow him on his Facebook page here.